Wellesley's Roxanne Euben's New Book Reveals
an Anthology of Islamist Thought

WELLESLEY, Mass.— Wellesley College political scientist Roxanne L. Euben has published a new book designed to expand the understanding of Islamist thought in the Western world.
Princeton Readings in Islamist Thought: Texts and Contexts from al-Banna to Bin Laden (Princeton University Press, November 2009), is an anthology of key primary texts that provides an introduction to Islamist political thought from the early 20th century to the present.
"This book is dramatically different from those I've worked on before," Euben said. "Not only is it co-written and co-edited with Princeton University's Muhammad Qasim Zaman, but we also did some of our own translations of Islamist writings from the original Arabic to make primary sources accessible to English speakers."
Euben notes the book is aimed at both lay readers and academics, with the goal of broadening the understanding of Islamic thought.
"Unlike my previous work, this book is deliberately aimed at a non-specialist audience, including undergraduates and a general readership who are often swamped by the fear and confusion swirling around the subject of Islamism these days," she said. "Our aim is to help readers see beyond the pervasive Islamist-as-terrorist image and recognize the political complexity, contradictions and disagreements that mark contemporary Islamist thinking from Egypt to Pakistan to Iran."
Wellesley's Ralph Emerson and Alice Freeman Palmer Professor of Political Science, Euben has recently been appointed as an officer and governing council member of the American Political Science Association, the official professional association of North American political scientists.

Her new book gathers texts from influential Islamist thinkers including Ayatollah Khomeini, Usama bin Laden, Muslim Brotherhood founder Hasan al-Banna, and Moroccan Islamist leader Nadia Yassine, as well as the Hamas charter, an interview with a Taliban commander, and the final testament of 9/11 hijacker Muhammad Atta.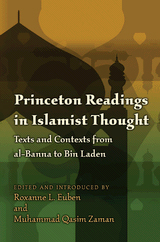 The anthology brings into sharp relief the commonalities in Islamist arguments about gender, democracy, and violence, but it also reveals significant political and theological disagreements among thinkers too often grouped together and dismissed as extremists or terrorists.

"This book is an excellent primer on the key ideas and prominent thinkers that have shaped Islamism over the past century," said Vali Nasr, author of Forces of Fortune: The Rise of a New Muslim Middle Class and What it Means for Our World. "Euben and Zaman provide the reader with both text and context by pairing selections from key Islamist works with their own incisive analysis. The result is a most useful and timely intellectual history of Islamism."

"This splendid volume literally opens the door to Islamic political thought for Western scholars and teachers of politics," said Wendy Brown, University of California, Berkeley.

Euben's research and teaching converges over Western and non-Western political theory – a newly emerging field called comparative political theory – with a focus on the relationship between Islamic and Western political thought. She is also the author of Journeys to the Other Shore: Muslim and Western Travelers in Search Of Knowledge (Princeton University Press, 2006) and Enemy in the Mirror: Islamic Fundamentalism and the Limits of Modern Rationalism (Princeton University Press, 1999). Euben has been awarded a fellowship from the American Council of Learned Societies, a fellowship at the Radcliffe Institute for Advanced Study at Harvard University, and the Pinanski Prize for Excellence in Teaching at Wellesley.

Since 1875, Wellesley College has been a leader in providing an excellent liberal arts education for women who will make a difference in the world. Its 500-acre campus near Boston is home to 2,300 undergraduate students from all 50 states and 75 countries.

###

(Click on photo for print quality versions.)