One Nation, Indivisible?
Wellesley's Stacie Goddard Examines the Nature of, and Solutions for,
Ongoing Territorial Disputes in New Book

WELLESLEY, Mass.—For thousands of years, leading up to present day, men have battled over the right to rule the Holy City of Jerusalem.
Wellesley's Stacie Goddard says politicians' rhetoric is to blame for the ongoing disputes over land in Jerusalem and Northern Ireland.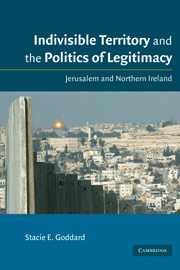 Yet this territorial dispute, seemingly irresolvable, hasn't always been so, says Wellesley's Stacie Goddard in her new book, Indivisible Territory and the Politics of Legitimacy: Jerusalem and Northern Ireland (Cambridge University Press, September 2009). Historically, leaders on both sides — Israelis and Palestinians— have actually been willing to divide the holy city at times.
Similarly, throughout the 19th century, it seemed as though Britain and Ireland would agree to share sovereignty over territory. Only in the 20th century did the conflict over Northern Ireland seem to be irreconcilable.
"If territory isn't inherently non-negotiable — or what I call indivisible — then this raises the question of why it is that territorial disputes become so intractable," said Goddard, assistant professor of political science at Wellesley. "And that's the question I attempt to answer in this book. Ultimately I argue that territorial disputes are not the outcome of ancient hatreds or deep-seated ethnic and religious animosities. Rather, it's politicians' rhetoric that creates non-negotiable territory."
When bargaining over territory, politicians appeal to their domestic audiences and undercut the claims of their opponents. However, this strategy has unintended consequences, Goddard argues. By resonating with some coalitions and appearing unacceptable to others, politicians can lock them into positions in which they are unable to recognize the legitimacy of their opponent's demands. As a result, politicians come to negotiations with incompatible claims, constructing territory as indivisible.
Goddard points to the Belfast Agreement of 1998, which seemingly resolved some key issues in the Northern Irish Conflict, as an example of politicians working together toward resolution.
"If disputes over indivisible territory are to be resolved, it's critical to locate actors who are able to bridge opposing coalitions — basically, actors who can legitimate a settlement to all of the antagonists," Goddard said. "These politicians were able to speak to moderates in Northern Ireland, but they also could appeal to extremists in their constituency who would have otherwise opposed the settlement."
Goddard's ideas on indivisible territorial disputes have won praise from her colleagues. "Decision-makers, negotiators and students of Middle East politics should take heed as Goddard pulls away the religious veil obscuring the Jerusalem dispute," said Ron Hassner of the University of California, Berkeley. "Her compelling and meticulously researched analysis shows that this conflict, like the violence over Northern Ireland, is not God-made but very much man-made."
"Stacie Goddard's book makes a sophisticated contribution to the literature on legitimacy in international politics and takes an especially significant step forward in bridging rationalist and constructivist approaches to international conflict and cooperation," noted Mlada Bukovansky of Smith College.
In addition to teaching at Wellesley, Goddard is a faculty associate in the International Security Program at the Belfer Center for Science and International Affairs at Harvard University. Previously, she was a Fellow at the Belfer Center, a National Security Fellow at the John M. Olin Institute for Strategic Studies at Harvard, and a Fellow at the Center for International Studies at Princeton University and the Center for International Studies at the University of Southern California. Her articles have appeared in International Organization, International Security, International Theory and the European Journal of International Relations.
Since 1875, Wellesley College has been a leader in providing an excellent liberal arts education for women who will make a difference in the world. Its 500-acre campus near Boston is home to 2,300 undergraduate students from all 50 states and 75 countries.
###