Synthetic Platelets Could Stop Bleeding in Car Crashes and on Battlefields

Wellesley's Nolan Flynn Helps to Develop New Treatment for Traumatic Injury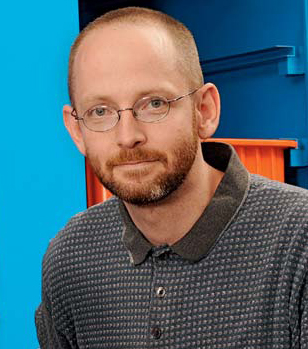 WELLESLEY, Mass. -- In settings from the battlefield to car accidents, blood loss is a major factor in deaths resulting from traumatic injury. Nolan Flynn, at right, associate professor of chemistry at Wellesley College, is part of a research team that has developed a new treatment for internal bleeding that promises to save lives.
"Although some treatments for uncontrolled bleeding, such as those based on human recombinant factor VIIa, exist, these materials are often limited by stringent storage conditions, short shelf life, and the potential for complications after administration to the patient," Flynn explained.
The Wellesley professor worked with researchers from Case Western Reserve University and Yale University to develop a new treatment based on synthetic platelets that shows promise for halting internal bleeding in simple injury models. The study used rats as a model, and further studies on pigs and humans are needed before this product would be able to apply for market approval.

"We think we have a new potential way of treating trauma and really helping improve outcomes," said lead researcher Erin Lavik, an associate professor of biomedical engineering at Case Western Reserve University in an interview with Bloomberg News. "We're tremendously excited about what we've seen."
The injectable polymer-based particles the team developed are made with FDA-approved materials such as those used in degradable stitches.
"The particles are able to travel through the bloodstream to the injury site and promote more rapid formation of a clot," Flynn said. "The treatment was found to cut bleeding time in half for rats following an injury to the femoral artery, also beating the factor VIIa treatment by about 25 percent."
The new synthetic platelets show important qualities beyond their ability to cut bleeding time. Those not incorporated into the clot cleared quickly with no complications for at least seven days. In addition, the platelets have a shelf life of at least two weeks at room temperature.
The research was published Dec. 16 in Science Translational Medicine and was funded in part by the Wallace H. Coulter Foundation in Miami and the National Institutes of Health.

Flynn received a B.A. degree from St. Olaf College in 1996 and a Ph.D. degree in chemistry from University of Illinois at Urbana-Champaign in 2001. He was a National Institutes of Health postdoctoral fellow in chemical engineering at the Massachusetts Institute of Technology from 2001–2003. He joined the Wellesley faculty in 2003.

Flynn teaches chemical analysis and equilibrium and analytical chemistry, and he offers seminars in nanoscience and nanotechnology. In 2006, he was a winner of Wellesley's Pinanski Prize for Excellence in Teaching.
Since 1875, Wellesley College has been a leader in providing an excellent liberal arts education for women who will make a difference in the world. Its 500-acre campus near Boston is home to 2,300 undergraduate students from all 50 states and 75 countries.


###