Wellesley College Senior Hilary Gram of Hopkinton, Mass.,
Speaks About Her Internship at the Cannes Film Festival

WELLESLEY, Mass.— While studying abroad in the south of France, Wellesley College senior Hilary Gram got a taste of Hollywood glamour as she interned at the Cannes International Film Festival, one of the world's most prestigious film festivals. Working at the Weinstein Co., an independent film studio, she gained firsthand exposure to the acquisitions and international sales departments, read scripts, attended screenings and worked on publicity campaigns for films such as Inglourious Basterds and Nine.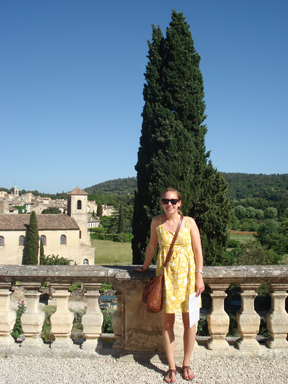 Wellesley College senior Hilary Gram will present "Off the Red Carpet: Inside a Studio at the Cannes Film Festival" during
the Tanner Conference Nov. 3.
She will discuss her adventures in movie-making during, "Off the Red Carpet: Inside a Studio at the Cannes Film Festival," at Wellesley College's annual Tanner Conference, a day-long event held Tuesday, Nov. 3.
"By combining my international study experience with an internship, I was able to explore the film industry from a global perspective and enrich my understanding of international cinema," she said. "This exposure reaffirmed my interest in the film medium as both a business and an art form."
Gram, the daughter of Michael and Ivy Gram of Hopkinton, Mass., is an economics and French major. She is co-captain of the Wellesley swimming and diving team, a First-Year Mentor and a lifeguard. She hopes to work in the development and production end of the film or television industry following graduation.
The Tanner Conference brings together students, faculty, staff and alumnae as they share their off-campus journeys. With projects ranging from "Hip-Hop and Toy Guns in Palestine" to "Stuck in the Mucky-Muck: Adventures in Cape Cod Salt Marsh Research," Wellesley travelers return to discuss their experiences with the community.
This year's conference represents the work of nearly 300 students, faculty, alumnae and staff. The annual event was established in 2001 through the generosity of Wellesley trustee Estelle "Nicki" Newman Tanner '57.To read more about the Tanner Conference and get a full schedule of presentations, visit www.wellesley.edu/CWS/Tanner/.
Since 1875, Wellesley College has been a leader in providing an excellent liberal arts education for women who will make a difference in the world. Its 500-acre campus near Boston is home to 2,300 undergraduate students from all 50 states and 68 countries.
###