Wellesley Student Anya Corke's Champion Chess Play
Breaks Boundaries in Boston

WELLESLEY, Mass.— Anya Corke has gone by many titles: the top chess player from Hong Kong, a woman grandmaster and, most recently, a Wellesley College first-year student.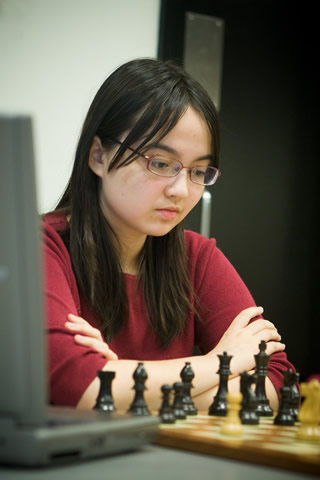 Wellesley College first-year Anya Corke
during a match for the Boston Blitz.
Since coming to Wellesley this fall, Corke, 19, has added another distinction to her name as the first-ever woman to play for the Boston Blitz, a Cambridge-based team that competes in the United States Chess League.
"I was a little nervous about my first game for the Boston Blitz. I didn't want to disappoint, especially with the extra scrutiny of being the team's first female player," she wrote in her notes following the first match. "After being immersed at Wellesley for a month, it's a mild culture shock for my gender to be newsworthy."
Corke has gone unbeaten since beginning play for the league. Now that the team's season has wrapped and the semester has ended, she will head to the Czech Republic to compete in two tournaments during winter break, where she will represent England.
The daughter of Harold and Mei Corke of Hong Kong, she first stumbled upon a chess set at home at age 9. Her father taught her to play, and she joined the chess club at her school. Within months, she won the Hong Kong junior championship in the age 8-10 category. She continued playing local tournaments and later started representing Hong Kong internationally.
Serious tournaments involve 9, 11 or up to 13 games and last between five days and three weeks. She trains by reading chess books, working with databases, playing online and having lessons online with her coach, who lives in Moscow. Before turning her focus to classes and papers at Wellesley, she typically devoted 2-4 hours per day to chess. Now, her training is more sporadic.
"I love chess and I've been lucky to pursue my passion. It's also been an incredible opportunity to travel to many countries, experience different cultures and meet a lot of interesting people," she said. "The competitive lifestyle is tough and you have to grow up a little faster, and maybe miss out on some of the typical teenage experiences, but I think the trade-off has definitely been worth it."
Corke's career highlights include winning four Hong Kong championships, three British junior titles and an Asian girls' championship. When she was 14, she won nine out of 13 games at the "men's" Olympiad, qualifying her for the woman grandmaster title. According to the World Chess Federation, there are 249 woman grandmasters in the world, as of November 2009.
Outside of chess, Corke writes poetry and loves Russian language and culture, as well as old movies, music and books. She is planning to double major in Russian and either philosophy or English. She will keep playing chess throughout college, and lists her goals as attending law school, writing a novel, seeing how far her chess potential takes her, and to be happy.
And maybe add a few more titles to her name.
Since 1875, Wellesley College has been a leader in providing an excellent liberal arts education for women who will make a difference in the world. Its 500-acre campus near Boston is home to 2,300 undergraduate students from all 50 states and 75 countries.
###