Developing Tomorrow's Leaders: First-Ever Albright Institute
Launches at Wellesley College

Madeleine Albright and a Panel of College Presidents Will Address
Global Leadership in Jan. 19 Public Forum

WELLESLEY, Mass.— Call it a new global network. Forty young women will learn how to become effective world leaders this January at Wellesley College's first-ever Madeleine Korbel Albright Institute for Global Affairs.
Wellesley College Albright Fellows begin an intensive study of global forums this week.

This unique opportunity showcases the advantages of a liberal arts education—particularly one provided by the nation's top women's college—in preparing women for positions of global leadership. Learning how to synthesize a vast array of ideas and perspectives, students will focus on setting goals, promoting collaboration, creating consensus and building community to solve global problems.
In addition to three weeks of intensive studies offered to the 40 Albright Fellows, as they are called, on Tuesday, Jan. 19, from 1:30-3 pm in Tishman Commons, Wang Campus Center, Wellesley College President H. Kim Bottomly will host a panel discussion featuring Secretary Albright. "Call to Action: Higher Education's Role and Responsibility in Global Affairs" will offer insights on what colleges and universities must do to produce outstanding world leaders.
In addition to Albright and Bottomly, speakers include Lee C. Bollinger, president of Columbia University; Beverly Daniel Tatum, president of Spelman College; and moderator Andrew Shennan, provost and dean of Wellesley College. The event is free and open to the public.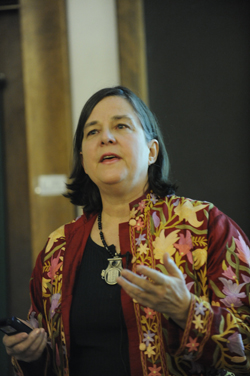 International development expert Katherine Marshall is among the 34 distinguished faculty of the first-ever Albright Institute.
---
Photos by Richard Howard
Click on photos for print quality image.
The Albright Fellows will study at Wellesley from Jan. 4-22.
"I truly feel privileged for having attended a school that emphasizes using education as a force to unite people, nations and cultures for peace and a sustainable future," said Albright Fellow and Wellesley senior Masa Dikanovic of Montenegro, who looks forward to learning from "a multitude of different perspectives."
The Fellows hail from the United States and 13 other countries. They will take part in forums taught by 34 leaders in the areas of human rights, ethics, international banking and law, business, science, journalism, philosophy, economics, international development, ecology, food policy, women's studies, Africana studies, history, computer science, religion and politics. Their teachers include the first woman to serve as U.S. secretary of state, Madeleine K. Albright.
"We are witnessing a generational change in the American political scene," said Albright, a member of the Wellesley College class of 1959. "This is the right time—and Wellesley is the right place—to help train a whole new group of young women leaders."
The Albright Fellows will also choose from among 150 internships that will take them around the world next summer to practice lessons learned this January. Each will focus on a United Nations Millennium Development Goal, with aims such as "achieve universal primary education" and "promote gender equality and empower women." They will return to campus next fall to present their findings at a conference.
Alison Harrington, a Wellesley senior from Westford, Mass., said the Institute is a training ground for her most cherished dreams.
"As a young woman who aspires to represent the U.S. government in the Middle East, I know the Albright Institute will undoubtedly provide me with an unparalleled opportunity to analyze diplomacy and international affairs in and out of the classroom," she said. "I hope to gain a comprehensive perspective on international challenges."
Joanne Murray, director of the Albright Institute and Wellesley's Center for Work and Service, believes that the Institute will help students aim high as they plan their careers.
"This Institute is one of a kind, in that it is a liberal arts perspective on global issues and represents a liberal arts solution to developing global leaders," Murray said.
Wellesley President H. Kim Bottomly notes that the Institute will accelerate Wellesley's efforts to learn from, as well as serve, cultures and communities around the world.
"The Institute's program is broadly interdisciplinary because global understanding is not just about political science," Bottomly said. "It is also about economics, anthropology, philosophy, about history, culture and religion. This Institute will not only increase students' understanding of the world, but will educate women for leadership in that world."
Albright Fellows will each pursue an internship next summer that will take them around the world to put what they have learned into action.

Albright feels her Wellesley education prepared her well for her groundbreaking career in world politics.
"I have to say, pretty much everything that I have done has something to do with Wellesley because I loved it," she recently told New England Cable News. "It was a fabulous college for me. I knew that I wanted to be a political science major but I also learned the importance of questioning things. I gained a sense of confidence that I attribute in large part to attending a women's college."
Since 1875, Wellesley College has been a leader in providing an excellent liberal arts education for women who will make a difference in the world. Its 500-acre campus near Boston is home to 2,300 undergraduate students from all 50 states and 75 countries.
###