Partners in Health Director Ophelia Dahl Calls for Coordinated Efforts to Aid Haiti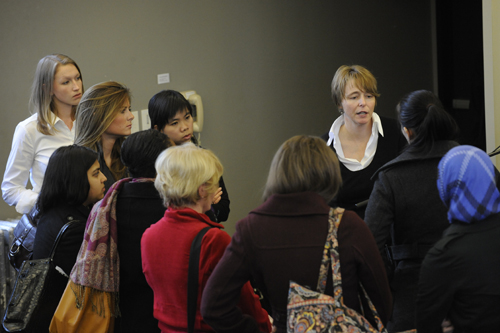 Wellesley students posed questions about the situation in Haiti to Ophelia Dahl, executive director of Partners in Health.
WELLESLEY, Mass.— For more than 20 years, Boston-based Partners In Health (PIH) has delivered health care to the poorest areas of Haiti. This week's devastating 7.0 earthquake has the nonprofit organization quickly organizing to help the stricken country.
On Friday, Jan. 15, Ophelia Dahl, PIH executive director, spoke about the devastation in Haiti at Wellesley College, calling for a coordinated effort among the 10,000 organizations already involved in aid to Haiti.
"President Obama has promised that the Haitian people will not be forsaken, the Haitian people will not be forgotten," she said. "I have every confidence that we will coordinate this effort. Just from a tiny little NGO (non-governmental organization) based on 'Comm. Ave.' we have seen an enormous response and interest in helping and supporting relief efforts."
Dahl, visiting Wellesley College as a faculty member in the inaugural Madeleine Korbel Albright Institute for Global Affairs, adjusted her lecture plans after the earthquake hit earlier this week. A standing-room only crowd heard her lecture, "The Crisis in Haiti: What Needs To Be Done," which offered up-to-the-minute information on the crisis.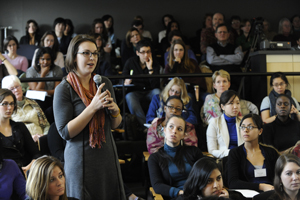 Wellesley students posed questions about the situation in Haiti to Ophelia Dahl, executive director of Partners in Health.
---
Photos by Richard Howard
Click on photos for print quality image.
Dahl is in communication by satellite phone with PIH staff members in Haiti who are surveying the damage and organizing relief efforts.
"We are hearing from our colleagues on the ground that the casualties may be far higher than initial reports, possibly as high as 250,000 lives lost," she said. "And it is still very hard to get information. Even though our staff works for us in the Central Plateau and other regions, they have family who live in Port-Au-Prince and we have not heard from many of them since the earthquake struck."
Aftershocks continue to hamper the ability to coordinate relief efforts.
"We heard on our call this morning that again today there was another aftershock—this is not yet over," Dahl said. "The quake struck the government, the U.N., the ports the airports, the Red Cross and the communications system, and each loss compounds a terrible problem," she added. "All major aid organizations are damaged or destroyed." Dahl said that one of her colleagues, a physician from Brigham and Women's Hospital, landed in Port-Au-Prince just as the earthquake was occurring.
"We were in a budget meeting and she sent us a message–'SOS…SOS…We need supplies. Everything is crushed.'"
Fortunately, PIH has been able to access medical supplies.
"The medical team has been able to get to work," she said. Dahl reports that in addition to the need for dollars, medical supplies, orthopedic and surgical equipment, there is also a need for everything from blankets to sleeping bags to flashlights and tents.
"It is winter in Haiti and people are getting cold at night," she said. Dahl explained that this is not yet something people have begun to think about addressing, but is a problem that will continue to grow.
Dahl, a member of the Wellesley College class of 1994, has found immediate support for her efforts from current Wellesley students, who have already begun organizing to help with the crisis in Haiti. For those who want to help and to stay informed with updates on the Haiti situation, she said to go online to http://www.standwithhaiti.org.
Since 1875, Wellesley College has been a leader in providing an excellent liberal arts education for women who will make a difference in the world. Its 500-acre campus near Boston is home to 2,300 undergraduate students from all 50 states and 75 countries.
###