ENSEMBLE-IN-RESIDENCE TRIPLE HELIX PIANO TRIO PRESENTS
FROM ROOTS TO BLOSSOMS:
THE FLOWERING MODERNITY NOURISHED BY THE ROMANTIC SPIRIT
Featuring a World Premiere by Composer Howard Frazin
"These experienced players perform at a white-hot point where instinct and intellect intersect" - The Boston Globe


Photo Credit: Susan Taylor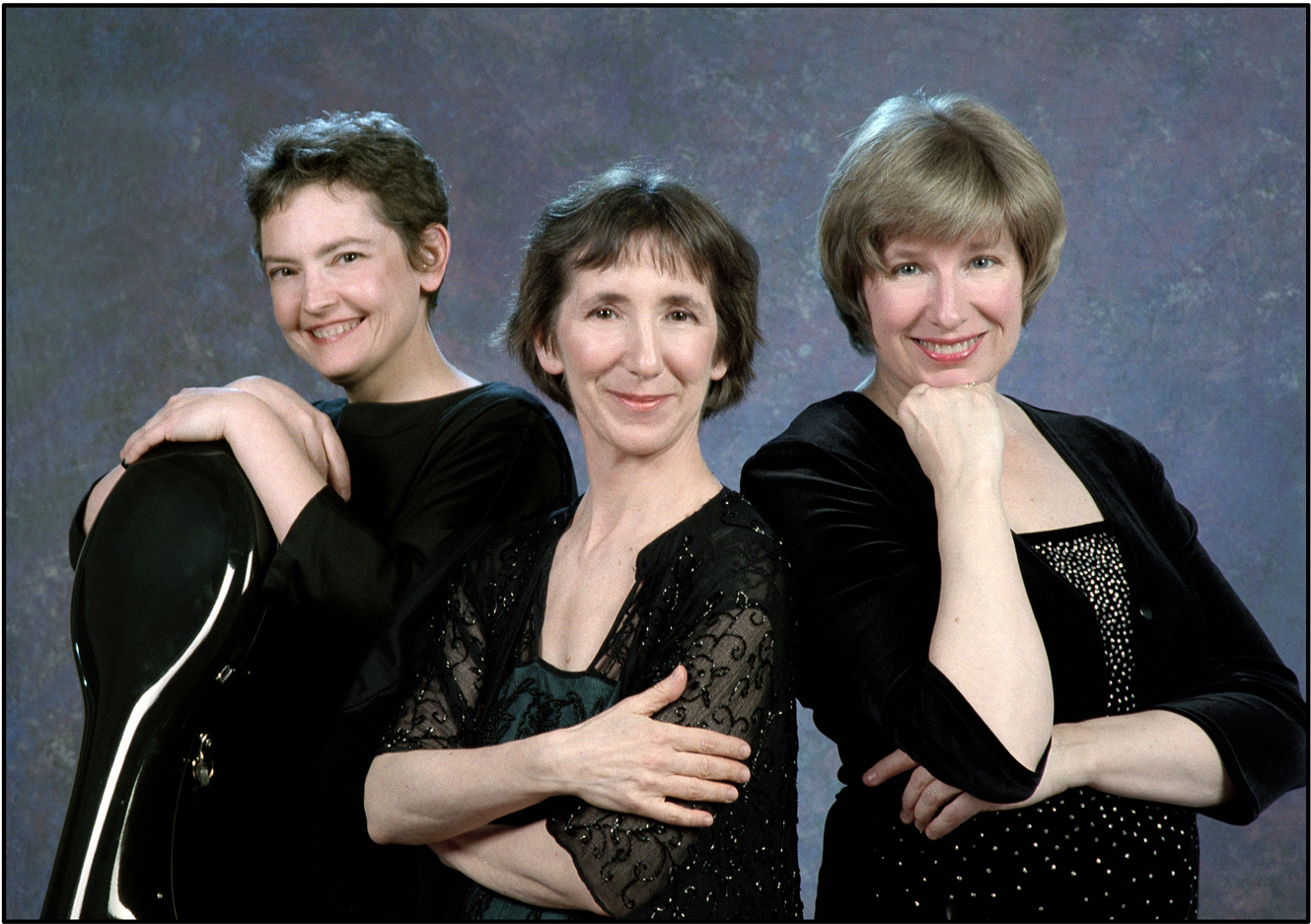 WELLESLEY, Mass.—The Concert Series at Wellesley College presents ensemble-in-residence Triple Helix Piano Trio – violinist Bayla Keyes, cellist Rhonda Rider and pianist Lois Shapiro – in two separate "pairings" of Wednesday afternoon lecture-recitals at Jewett Auditorium and Saturday evening concerts at Houghton Chapel Feb. 17 and 20 and April 7 and 10. All presentations are free and open to the public.
The 2009-2010 season, "From Roots to Blossoms: The Flowering of Modernity Nourished by the Romantic Spirit," traces the musical roots of the Romantic Period as the trio reaches forward into the early 20th century – and beyond. February's program highlights works by Claude Debussy, Gabriel Fauré, Leoš Janáček and Rebecca Clarke; and guest violinist Gabriela Diaz. April's program features works by Aaron Copland, Charles Ives and William Bolcom, a World Premiere by local composer Howard Frazin (based on a Joan of Arc text via Mark Twain); and guest soprano Sarah Pelletier.
The Triple Helix Piano Trio was formed in 1995 by three award-winning chamber musicians and soloists: Bayla Keyes, founding violinist of the Naumburg and Evian award-winning Muir String Quartet; Rhonda Rider, founding cellist of the Naumburg award-winning Lydian String Quartet; and pianist Lois Shapiro, winner of the New York Concert Artists Guild Award. The Boston Globe described the results of their union as "the livest live music in town," with "wildly imaginative, emotionally charged, virtuoso playing" that was "sophisticated in musical detail, wholeheartedly interactive, uninhibited in emotion, and touched by a special grace." The ensemble is considered one of the best piano trios on today's musical landscape. In its residency at Wellesley College, Triple Helix enlightens the community with sophisticated and challenging programming, virtuosic performances, and innovative lecture-recitals. For more, go to www.triplehelixpianotrio.org.
About the Programs
Triple Helix Piano Trio Lecture–Recital
New Artistic Perspectives on Space and Time: 1915–1923,
with John Rhodes, Art Department
Wednesday, Feb. 17, 12:30 pm, Jewett Auditorium
Triple Helix Piano Trio Concert
Saturday, Feb. 20, 8 pm, Houghton Chapel and Multifaith Center
Triple Helix Piano Trio will explore music written in the shadow of the First World War from the period between 1915 and 1923. The great variety and richness of the work that blossomed during these years was fertilized by an increasing nationalistic fervor, the anguishing horrors of war and new ways of perceiving space and time. Program to include: Debussy's Sonata for Cello and Piano, Debussy's Sonata for Violin and Piano, Fauré's Piano Trio in D minor, Op. 120, Janáček's Violin Sonata, Janáček's Fairy Tale ("Pohadka") for Cello and Piano, and Rebecca Clarke's Piano Trio. "Dazzling" violinist Gabriela Diaz will be joining Triple Helix for both February events.
Triple Helix Piano Trio Lecture–Recital
Yankee Ingenuity: Daring to do Strange and Bold Things,
with English Professor Lawrence Rosenwald
Wednesday, April 7, 12:30 pm, Jewett Auditorium
Triple Helix Piano Trio: Concert with alumna Sarah Pelletier, Soprano
Saturday April 10, 8 pm Houghton Chapel and Multifaith Center
To close their season, Triple Helix will look at the ways in which the seeds of European Romanticism took root in America, manifesting itself in Yankee ingenuity. The musicians will revel in music by composers who sprang from American soil and who were keen on giving voice to the American ethos in music, distilling the heartbeat and essence of a vigorous young land of mystery, beauty and rugged individualism. Program will include William Bolcom's Violin Sonata No. 2, Aaron Copland's Twelve Poems of Emily Dickinson, Charles Ives' Piano Trio, and a world premiere by Cambridge composer Howard Frazin based on a Joan of Arc text (via Mark Twain).
Composer Howard Frazin lives in Cambridge where has taught composition at the Longy School of Music since 1991. He was a former president and member of Composer in Red Sneakers for many years and is the cofounder and codirector of WordSong, a new concert format that creates public conversation about intuitive musical experience. His music has been performed throughout the U.S., Canada, France, Italy, Venezuela and Russia, including festivals at Tanglewood, Aspen, Banff, Monadnock and Yellow Barn.
In addition to his new work for Triple Helix, Frazin's current projects include a piano trio for the Claremont Trio to be premiered on the Dallas Chamber Music concerts series in February 2010, a new work for the string orchestra A Far Cry to be premiered at Jordan Hall in May 2010 and a scena for tenor Frank Kelly and violinist Daniel Stepner (based on an Edward Lear text) to be premiered at Brandeis University in fall 2010.
THE CONCERT SERIES AT WELLESLEY COLLEGE
Orchestrated by the Department of Music, the Concert Series at Wellesley College brings a diverse array of world-class performers to campus, complementing the department's academic offerings and augmenting the cultural life of the College and surrounding community.
For more information about The Concert Series at Wellesley College, call Jennifer Ritvo Hughes, director of publicity and coordinator of the arts, at 781-283-2028 or visit the Music Department Web site at www.wellesley.edu/Music/home.html.
Unless otherwise noted, concerts are free and open to general public.
For directions to the Wellesley College campus, 106 Central Street, Wellesley, Mass., call 781-283-2736.
ABOUT WELLESLEY COLLEGE & THE ARTS
Since 1875, Wellesley College has been a leader in providing an excellent liberal arts education for women who will make a difference in the world. Its 500-acre campus near Boston is home to 2,300 undergraduate students from all 50 states and 75 countries.
The Wellesley College arts curriculum and the highly acclaimed Davis Museum and Cultural Center are integral components of the College's liberal arts education. For decades, various departments and programs from across the campus have enlivened the community with world-class programming — classical and popular music, visual arts, theatre, dance, author readings, symposia, and lectures by some of today's leading artists and creative thinkers — most of which is free and open to the general public.

###