N.Y. Times Journalist Will Discuss Battle to Fix U.S. Economic Woes
David Leonhardt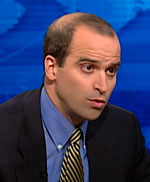 WELLESLEY, Mass.—Journalist David Leonhardt, whose column on economics and business appears each Wednesday in The New York Times, will talk about the economy and taxes in Wellesley College's 2010 Goldman Lecture in Economics, "Read My Lips: The Coming Struggle Over Tax Policy."
The event, on Tuesday, Feb. 16, at 8 pm in Tishman Commons, Wang Campus Center, on the Wellesley campus, is free and open to the public.

Leonhardt has been writing about economics for The Times since 2000. He was one of the writers who produced the paper's recent series on social class in the United States. He has written frequently about economic policy, real estate and the job market, as well as about the corporate scandals of recent years.

"The dramatic economic downturn has led policymakers to take aggressive steps to halt the decline and, hopefully, to reverse course," said Phillip B. Levine, Class of 1919 professor and chair of Wellesley's Department of Economics. "Those measures led to the expenditure of hundreds of billions, even trillions, of dollars that have added to the large national debt that already accumulated during the past decade. At some point, those bills must be paid. Leonhardt will discuss his thoughts on the coming battles that are sure to be fought to right our fiscal ship."

In 2004, Leonhardt founded an analytical sports column, "Keeping Score," which runs on Sundays. Since joining The Times in 1999, he has also written about culture, science and travel. He previously worked for Business Week magazine and for the metro desk of The Washington Post. A New York native, he studied applied mathematics at Yale.

For more information, contact Levine at plevine@wellesley.edu. Directions and a map of Wellesley College are online at http://new.wellesley.edu/Admin/travel.html Free parking is available in the Davis Parking Facility.

Since 1875, Wellesley College has been a leader in providing an excellent liberal arts education for women who will make a difference in the world. Its 500-acre campus near Boston is home to 2,300 undergraduate students from all 50 states and 75 countries.

###