Wellesley College Honors Nigerian Author Chinua Achebe
with Three-Day Celebration March 4-6
"Chinua Achebe is one of the great intellectual and ethical figures of our time"
– Leon Botstein, Bard College


Nigerian Author Chinua Achebe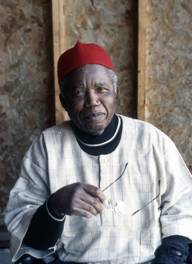 WELLESLEY, Mass.—Wellesley College's Newhouse Center for the Humanities and the Office of the President hosts "Celebrating Chinua Achebe," three days of readings, performances and scholarly events celebrating the work of Nigerian poet and novelist, Chinua Achebe, one of the most important international figures in contemporary literature. Winner of the 2007 Man Booker Prize for fiction, Achebe is best known for his novel, Things Fall Apart, the most widely read work of African fiction. Achebe will deliver the 2010 Wilson Lecture Friday, March 5, at 7:30 pm in Houghton Chapel.
"Chinua Achebe inaugurated the modern African novel. He also illuminated the path for writers around the world seeking new words and forms for new realities and societies," says Elaine Showalter, literary scholar and 2007 Man Booker International Prize chair.
"The fiftieth anniversary of Chinua Achebe's novel No Longer at Ease has arrived at a critical time in politics and literature," said Carol Dougherty, director of the Newhouse Center of the Humanities. "Achebe and his writing have stood astride the crossroads of politics, literature, East and West since the publication of Things Fall Apart in 1959, and I am thrilled that the Newhouse Center will host such a prominent group of artists and scholars as they take up the important questions raised by Achebe in his work over the course of the three-day celebration. We are so lucky that Mr. Achebe will be present among us so that we can learn from him, but also that we may honor him as he deserves."
This series of events is also sponsored by the Humanities Center at Northeastern University. All events are free and open to the public.

Contemporary Nigerian Fiction
Thursday, March 4, 7 pm, Clapp Library Lecture Room
An evening of readings by contemporary Nigerian novelists Helon Habila and Sefi Atta, moderated by Newhouse Visiting Professor of Creative Writing Colin Channer.
Chinua Achebe: 2010 Wilson Lecture (see above)
Friday, March 5, 7:30 pm, Houghton Chapel and Multifaith Center
Chinua Achebe will read from selected works, including his recent memoir, The Education of a British-Protected Child (Alfred A. Knopf, 2009). The annual Wilson Lecture brings some of the most important voices in contemporary society to Wellesley. Past lecturers have included the Honorable Justice Ruth Bader Ginsberg, environmentalist Bill McKibbon, and Lani Guinier, the first woman to receive tenure at Harvard Law School.
Symposium: No Longer at Ease 1960–2010
Literature, Politics, and the Challenges of Africa at the Crossroads
Saturday, March 6, 9 am–5 pm, Collins Cinema
Chinua Achebe has often described himself as a man of more than one tradition—African and Western, literary and political. This symposium takes the 50th anniversary of his 1960 novel, No Longer at Ease, as the point of departure for a multi-disciplinary investigation of African society—and its representation—in the aftermath of colonization, war, liberation, a new wave of democratization and a new literature to grapple with it all.
Achebe is known the world over for having played a seminal role in the founding and development of African literature. His work centers on African politics, the way Africa and Africans are depicted in the West and the effects of colonization on African societies. His groundbreaking 1959 novel Things Fall Apart is still considered to be required reading the world over. It has sold over 12 million copies and has been translated into more than 50 languages.
Born in Nigeria in 1930, Achebe was raised in the large village of Ogidi, one of the first centers of Anglican missionary work in Eastern Nigeria, and is a graduate of University College of Ibadan, Nigeria. An early career in radio ended abruptly in 1966, when he left his post as director of external broadcasting in Nigeria during the national upheaval that led to the Biafran War. He was appointed senior research fellow at the University of Nigeria, Nsukka, and began lecturing widely abroad. For 19 years, he was Professor of Languages and Literature at Bard College. In 2009 he joined Brown University as the David and Marianna Fisher University Professor and professor of Africana Studies, where he founded the Chinua Achebe Colloquium. He is the recipient of more than 30 honorary degrees, as well as numerous awards for his work.

In 2004, Achebe declined to accept the title of Commander of the Federal Republic—Nigeria's second highest honor—in protest over the state of affairs in his native country. In 2007, he won the Man Booker International Prize, which is awarded once every two years to a living author for a body of work that has contributed to an achievement in fiction on the world stage. Paralyzed from the waist down in a 1990 car accident, he is married to Christie Chinwe Achebe, visiting professor of psychology at Bard, with whom he has four children.

ABOUT THE NEWHOUSE CENTER FOR THE HUMANITIES
Founded in 2003 by a generous gift from Susan Marley Newhouse '55 and Donald Newhouse, the Newhouse Center for the Humanities generates and supports innovative, world-class programming in the humanities and arts. The Newhouse Center's mission is to create a dynamic and cosmopolitan intellectual community that extends from Wellesley College to the greater Boston area and beyond.
For more information, visit www.wellesley.edu/NCH or contact Jane Jackson, NCH program coordinator, at 781-283-2698 or jjackson@wellesley.edu.
ABOUT WELLESLEY COLLEGE & THE ARTS

Since 1875, Wellesley College has been a leader in providing an excellent liberal arts education for women who will make a difference in the world. Its 500-acre campus near Boston is home to 2,300 undergraduate students from all 50 states and 75 countries.

The Wellesley College arts curriculum and the highly acclaimed Davis Museum and Cultural Center are integral components of the College's liberal arts education. For decades, various departments and programs from across the campus have enlivened the community with world-class programming — classical and popular music, visual arts, theatre, dance, author readings, symposia, and lectures by some of today's leading artists and creative thinkers — most of which is free and open to the public.

###