Ministering to Earthquake-Ravaged Haiti:
Wellesley Lends a Helping Hand (and 400+ Pairs of Shoes)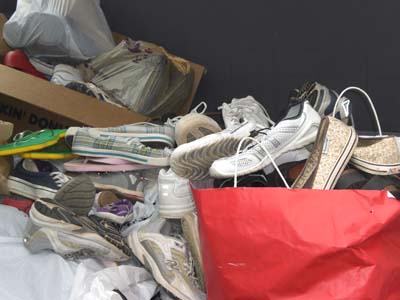 SOLE SUPPORT: Volunteers at Wellesley College collected more than 400 pairs of shoes to send to Haiti earthquake victims.
WELLESLEY, Mass.— In the wake of the earthquake in Haiti, Wellesley College has been involved in a
number of relief efforts to benefit the devastated country, including offering "seed money" grants to people who organized fundraisers for Haiti.
"Students, faculty and staff needing seed money to hold a fundraiser for earthquake relief can apply for funding through the Center for Work and Service's Quick Fix Grant Program," noted Melissa Hawkins, director of service and stipend programs.
On another front, the Wellesley College Theatre Department production of "Private Lives" donated all the proceeds for one performance to Partners in Health, an organization that has helped the poor in Haiti for more than 20 years; its executive director, Ophelia Dahl, is a Wellesley alumna.
THEATRE ANGELS: Director of Theatre and Theatre Studies Nora Hussey instituted a "pay what you can" admission charge to good effect.
"We raised $750 that night," she said. "We also participated in the Sole Support for Haiti campaign and are now supporting that effort with a donation of $50 to help send the shoes to their destination."
WALK ON: The Sole Support for Haiti shoe drive was organized by Wellesley College student group Sed Ministrare, Wellesley Hillel and Natick High School.
"Apparently there is an acute shortage of footwear, and given the rubble and the disease that can be spread through the feet when walking barefoot, this was need that could be filled," said Kathe Lewis, administrative associate with Wellesley Hillel. "We are going through a nonprofit called Soles for Souls, which has a number of efforts going on. To date we have filled 29 cartons with the assorted shoes. Some have already been shipped and others are in line to go this week."
In addition to collecting footwear, the groups had to raise money to send the shoes to their destination.
"We've raised more than $300 to ship boxes to Haiti and have collected more than 400 pairs of shoes," said Wellesley senior Natalie Russ, a member of Hillel. "This initiative has been overwhelmingly successful."
Wellesley sophomore Tonia Smith helped organize the shoe drive through Sed Ministrare, an organization committed to providing aid to victims of catastrophe and to those who are suffering around the world.
"It is our aim to raise awareness and to work collectively to respond to global crises," said Smith. "Sed Ministrare was formed to serve as an umbrella organization through which everyone on campus can be united to work on a common goal, 'Project: Haiti.' Most of the other donations will be going to Partners in Health. So far, some groups have turned an annual event into one for a cause and others have been finding other creative means of contributing to this cause."
MORE SUPPORT: Another project, Crutches for Haiti, aimed to provide an unfortunate necessity for some earthquake victims.
"If your family is as accident prone as mine, you have a few pairs of crutches lying around the house," wrote organizer Jane Jackson, who works in Wellesley's Newhouse Center for the Humanities, in an e-mail to the community. "To support Haitians who are waiting to be fitted for artificial limbs, I'm collecting crutches, and a prosthetics company in Shrewsbury will ship them to Haiti through Physicians for Peace, a group working in Haiti now."
Jackson reports great success at the venture.
"I collected more than 60 pairs of crutches," she said. "(Wellesley) Health Service was very generous, but many individuals also dropped them at my office – even retirees came in. Ultimately, they went to amputees who were waiting for prosthetics so they could keep their good legs from atrophying."
ROWING POWER: Head crew coach Tessa Spillane and her team held their annual team fundraiser on Feb. 16, but instead of raising money for the team, the funds went to a higher cause. Spillane explained that crew holds an annual "ergothon" event in which sponsors donate money to the team.
"We move four of our rowing machines over to the Wang Campus Center and keep the four machines going for 12 hours straight," she said. "Each rower 'ergs' for two hours. Usually, we take the money collected on the day of the event and use it for our spring training trip. This year, we are giving it to Partners in Health."
Spillane and her crew raised just over $300 for the cause.
Since 1875, Wellesley College has been a leader in providing an excellent liberal arts education for women who will make a difference in the world. Its 500-acre campus near Boston is home to 2,300 undergraduate students from all 50 states and 75 countries.
###