Civil Rights Activist Gives the Disadvantaged an Edge through Algebra
Robert Moses Will Speak at Wellesley College March 16
WELLESLEY, Mass.— As a key leader in the civil rights movement of the early 1960s, Robert Moses focused on registering southern sharecroppers to vote. Today, he aims to assure the right to learn algebra — arguing that mathematics literacy in today's information age is as important to citizenship as registering to vote in 1960s Mississippi.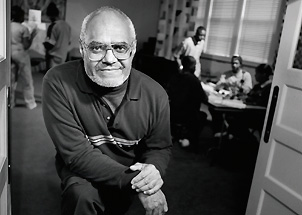 Activist Robert Moses is fighting for an amendment to the U.S. Constitution for quality public school education as a civil right.
"The first to highlight access to algebra as a gateway to equal opportunity, civil rights leader Robert Moses has had a huge impact on American education," said Barbara Beatty, professor and chair of the Department of Education at Wellesley College. "Through his groundbreaking work, he has raised awareness of math and technology literacy for all students as the key to citizenship in the 21st century."
Moses will talk about the need for high quality mathematics education during a lecture, "The Right to Learn: The Long Campaign for Civil Rights and Education Equity," Tuesday, March 16, at 4:30 pm in Collins Cinema on the Wellesley College campus. The event is free and open to the public.
In 1982, Moses founded The Algebra Project , a national mathematics literacy effort,using a five-year MacArthur Foundation "genius" grant. Moses, who serves as president of the organization, has l aunched a national discussion calling for an amendment to the U.S. Constitution for Quality Public School Education as a Civil Right .
During the talk, Moses will focus on The Algebra Project, discussing how algebra serves as a gateway course for low-income students of color to gain the mathematical and technical skills necessary to succeed and actively participate in society. He will also describe his agenda for quality public education as a constitutional right.
A pivotal organizer for the civil rights movement as field secretary for the Student Non-Violent Coordinating Committee (SNCC), Moses was director of SNCC's Mississippi Project. In 1964 he helped organize the Mississippi Freedom Democratic Party, which challenged the Mississippi regulars at the 1964 Democratic Convention. Moses has received several honorary degrees and honors, including the Heinz Award for the Human Condition and the Nation/Puffin Prize for Creative Citizenship.
Since 1875, Wellesley College has been a leader in providing an excellent liberal arts education for women who will make a difference in the world. Its 500-acre campus near Boston is home to 2,300 undergraduate students from all 50 states and 75 countries.
###