Wellesley's Adele Wolfson Appointed First Director
of Babson-Olin-Wellesley Collaboration
WELLESLEY, Mass.— Wellesley College President H. Kim Bottomly has announced that Adele Wolfson will assume the new position of special assistant to the president and director of the 3-College Collaboration on July 1, following the completion of her term as associate dean of the college at Wellesley.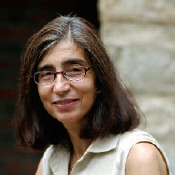 "There is enormous potential in bringing together three institutions with such different missions and approaches to education," Wolfson said.
An expanded partnership between Babson College, Franklin W. Olin College of Engineering and Wellesley was announced last year, building on the institutions' geographic proximity and complementary educational strengths. The collaboration aims to promote and facilitate cooperation between the institutions, and the new position will create a supportive infrastructure for the efforts, President Bottomly said.
"We anticipate that the creation of this position will allow us to pursue initiatives that give our students more curricular choices, our faculty a chance to undertake joint research and curricular projects, our Centers the opportunity to cooperate on conferences and programs, and our organizations the option of utilizing economies of scale and scope on shared services," said President Bottomly.
The directorship will be a three-year appointment that will rotate among Babson, Olin and Wellesley. The director will be advised by a steering committee composed of faculty, staff and student members from all three colleges.
"I am delighted to have been appointed the first director of the Wellesley-Olin-Babson consortium," Wolfson said. "There is enormous potential in bringing together three institutions with such different missions and approaches to education. In a way, the collaboration allows us to sharpen our own mission as we see it intersect with those of the other colleges."
Wolfson said her highest priority as director of the collaboration will be connecting faculty among the three campuses, which she hopes to achieve by facilitating the formation of faculty reading groups, research collaborations and teams of faculty who would like to teach classes.
"If we shape the collaboration well, it can serve as an innovative model for higher education that is still firmly rooted in the values of our individual colleges," she said.
Wolfson, associate dean of the college, holds the Nan Walsh Schow '54 and Howard B. Schow professorship in the natural and physical sciences, and is a professor of chemistry at Wellesley. Along with other Wellesley College administrators, she has worked to create programs that support the academic success of all students and to raise awareness of stereotype threat. She is particularly interested in science education, innovative pedagogy and the participation of women and underrepresented minorities in science. She has served as faculty director of the Science Center and as faculty director of the Pforzheimer Learning and Teaching Center.
Since 1875, Wellesley College has been a leader in providing an excellent liberal arts education for women who will make a difference in the world. Its 500-acre campus near Boston is home to 2,300 undergraduate students from all 50 states and 75 countries.
###