Wellesley College Art Department Presents
The Bakwin Lecture: Jerome Silbergeld on
Chinese Photography: Art and Documentation

WELLESLEY, Mass.—On April 1, at 4:30 pm, Jerome Silbergeld, professor of Chinese art history at Princeton University, will present a talk, "Chinese Photography: Art And Documentation" that will provide a unique view into everyday life in China, both traditional and modern, as seen through the lens of documentary photography. Held in Collins Cinema, the lecture is free and open to the public.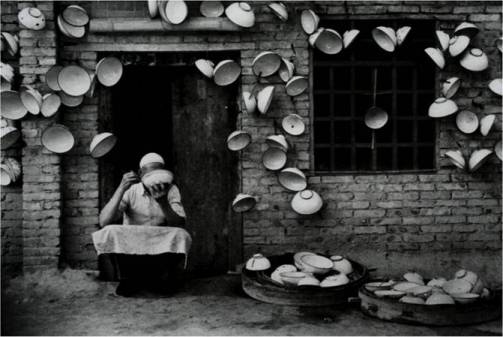 One of the most striking images from the exhibition is "Iron Rice Bowl," Hei Ming's 2000 portrait of a Muslim chef squatting in front of a crude construction worker's restaurant, his skullcap mimicking the customers' rice bowls hanging on the restaurant's facade.
Chinese cinema rose to international prominence in the 1990s, its avant-garde painting and photography after 2000, and now Chinese documentary photography is arriving on the scene and just beginning to gain appreciation. In the West, documentary photography led the way to the artistic recognition and museum collecting of "art" photography.
Silbergeld will examine the contrasts between Chinese and Western documentary photography. Do Chinese and Western museums view this medium from different perspectives? Do Chinese photographers see China through a different lens than their Western counterparts? Finally, what does documentary photography—Chinese or otherwise—have to do with art and aesthetics?
Silbergeld's lecture is based on the first American exhibition of Chinese documentary photography, Humanism in China: A Contemporary Record of Photography that offered a revealing glimpse of China never before seen in the U.S. The photographs in that exhibition, dating from 1951 though 2003, offered intimate portraits of rural and urban daily life in China, beyond the glossy veneer of the economic boom. As part of his presentation, Silbergeld will show images from this groundbreaking exhibition.
About the Humanism in China exhibition:
Humanism in China: A Contemporary Record of Photography was held at the China Institute Gallery in New York in 2009. Originally organized by the Guangdong Museum of Art, the exhibition represented the first large-scale collection of photography acquired permanently by any museum in China. Opening at the Guangdong Museum in 2003, the exhibition has traveled to seven venues in China, Germany, the United States and Scotland. The curators, Wang Huangsheng, An Ge and Hu Wugong, visited photographers' homes and studios in more than 20 provinces and viewed an estimated 100,000 photographs before selecting 600 images by 248 photographers. The exhibition at China Institute Gallery offered a more tightly focused selection – 100 photographs by more than 80 photographers – chosen by Silbergeld.
Together the images presented an unvarnished, starkly realistic view of the hardships and rewards of social modernization. "These photographs are not just about society and history but are equally about photography itself and the history of documentary photography in China," Silbergeld wrote in the catalog essay.
Much in the way that The Family of Man, the 1955 landmark photography exhibition curated by Edward Steichen at The Museum of Modern Art in New York, explored the universality of the human experience, Humanism in China: A Contemporary Record of Photography offered rare insight into ordinary and extraordinary human experiences – in this case, taking place in China over the last 50 years.
About Jerome Silbergeld:
Silbergeld is director of Princeton's Tang Center for East Asian Art. His teaching and publications are in the area of traditional and contemporary Chinese painting, Chinese gardens and architecture, and Chinese cinema. In his teaching and in more than 50 articles and book chapters, he has dealt with such topics as artistic tradition in times of political upheaval, the aesthetics of old age, perceptions and misperceptions of historical change, "bad" art and the articulation of the negative, the historically unstable identity of "China" and its impact on the writing of art history, regional diversity in Chinese gardens, and visual communication in a culture of political censorship. Among his books, edited volumes and exhibition catalogs are Chinese Painting Style (1982), Mind Landscapes: The Paintings of C. C. Wang (1987), Chinese Painting Colors (1989), Contradictions: Artistic Life, the Socialist State, and the Chinese Painter Li Huasheng (1993), China Into Film (1999), Hitchcock With a Chinese Face (2004), Persistence/Transformation: Text as Image in the Art of Xu Bing (2005), Body in Question: Image and Illusion in Two Chinese Films by Director Jiang Wen (2008), and Outside In: Contemporary x Chinese x American Art (2009).
ABOUT WELLESLEY COLLEGE & THE ARTS

The Wellesley College arts curriculum and the highly acclaimed Davis Museum and Cultural Center are integral components of the College's liberal arts education. For decades, various departments and programs from across the campus have enlivened the community with world-class programming — classical and popular music, visual arts, theatre, dance, author readings, symposia, and lectures by some of today's leading artists and creative thinkers — most of which is free and open to the general public.

Since 1875, Wellesley College has been a leader in providing an excellent liberal arts education for women who will make a difference in the world. Its 500-acre campus near Boston is home to 2,300 undergraduate students from all 50 states and 75 countries.
###