Seeing God in Prints: Indian Lithographs
from the Collection of Mark Baron and Elise Boisanté
Davis Museum and Cultural Center, Wellesley College

WELLESLEY, Mass.—Seeing God in Prints: Indian Lithographs from the Collection of Mark Baron and Elise Boisanté, an exhibition of late 19th- and early 20th- century color prints of Hindu gods and goddesses, will be on view at the Davis Museum and Cultural Center, Wellesley College, through June 6.. The first formal presentation in the United States of this genre of Indian art, this exhibition tells the story of how the worship of Hindu deities became entwined with the export of printmaking expertise from Europe to India.
Seeing God in Prints will trace the history of these widely distributed devotional lithographs, including important examples of 19th-century prints produced in Germany for export to India, the earliest examples printed by the first Indian-run presses and classic lithographs from the most famous early and mid-20th century Indian publishers. These images were produced in large editions and became ubiquitous in commercial and domestic spaces across India.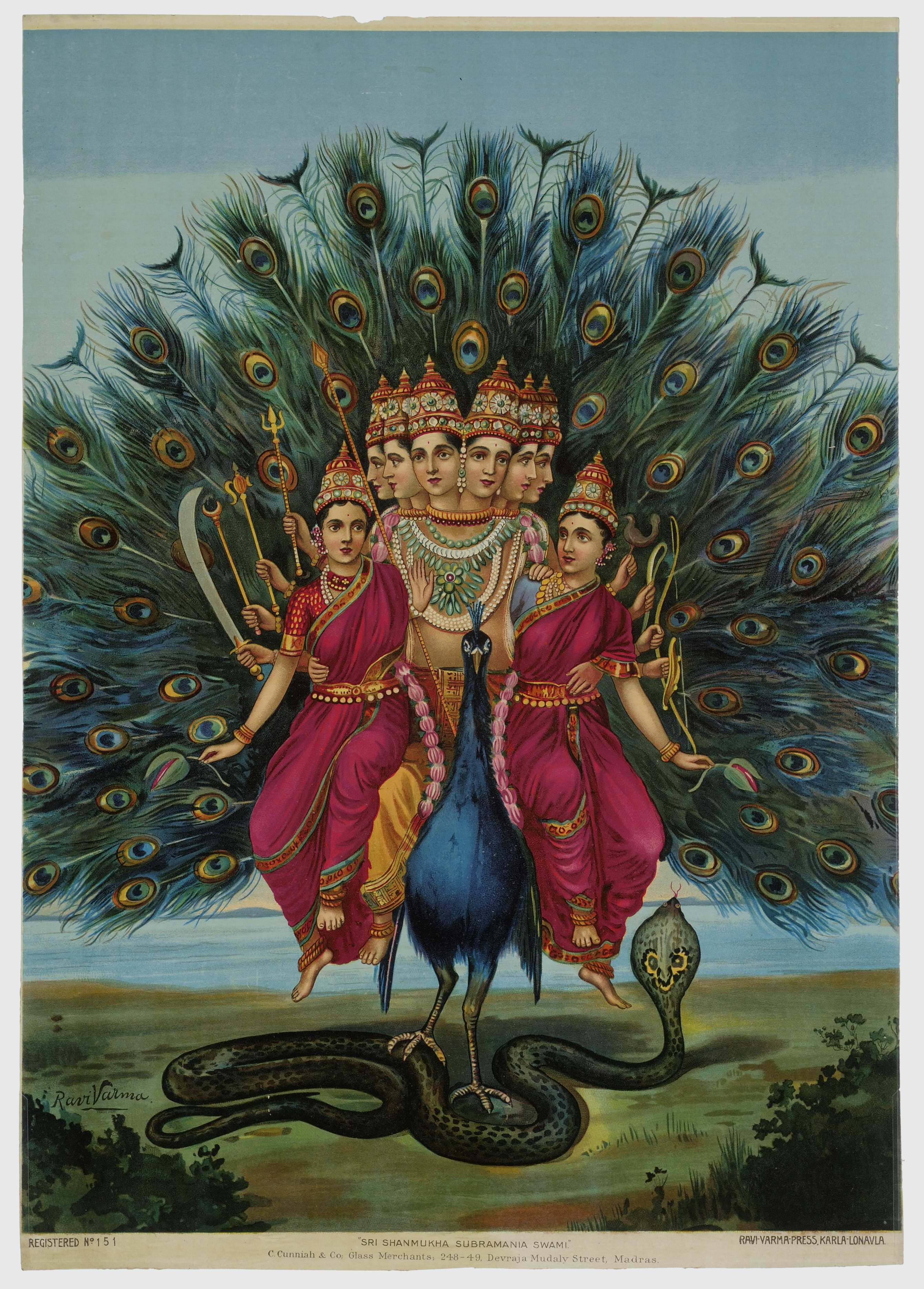 Referred to in India as "god photos," the lithographs are believed to be true representations of the deities. In the words of co-curator Andrew McCord, these prints, "as standardized, forward facing icons, give an immediate and portable connection to the divine."

Mark Baron and Elise Boisanté first visited India in 2000 andwere immediately captivated by the god prints. They have since traveled throughout the villages of south India and Rajasthan, as well as in the cities of Kolkata (Calcutta), Delhi and Mumbai, collecting images of Vishnu, Shiva, Kali, Durga, Ram, Lakshmi, Krishna, Ganesh and many other gods. As Baron says, "India was a revelation for us. What really hit us, right at the start, was the way in which the spiritual is truly woven into the fabric of everyday life. You became aware of this immediately because images of Hindu gods are everywhere…and these are not just images of gods, they are gods – gods incarnate in their printed image."

Seeing God in Prints, curated by Andrew McCord and Mark Baron, was organized by and first exhibited at International Print Center New York.

Major support for Seeing God in Prints has been provided by The Reed Foundation, with additional funding from the PECO Foundation. At the Davis Museum, the exhibition is funded by the Andrew W. Mellon Foundation and the Helyn MacLean '80 Endowed Program Fund.
A complementary exhibit of Indian art, opening on April 7, will also be on view at the Davis this spring:

Painted Songs & Stories: Contemporary Gond Art from India (April 7 – June 6)

Painted Songs & Stories features the works of eight contemporary artists belonging to a tribal clan of Central India, the Pardhan Gonds. Using a variety of media (including acrylic paintings on canvas, ink drawings on paper, silkscreen prints and animated film) they have created unprecedented depictions of their natural and mythological worlds, traditional songs and oral histories, thus inventing a new, hybrid visual art combining tribal subject matter with modern media and non-tribal patronage.

Rich in detail, color, mystery and humor, these colorful and captivating artworks brilliantly explore various religious, cultural, political, aesthetic and ethical issues associated with the transformation of communal and ritual forms of expression into signed artworks intended for urban, national, and international markets and exhibitions.

Painted Songs & Stories, the first American exhibit celebrating contemporary Gond art, features works from the private collection of art historian John H. Bowles, and is organized by Wellesley College's South Asia Studies Program.

Davis Museum and Cultural Center Hours and Information
Spring Semester Museum Hours: Tuesday–Saturday, 11 am-5 pm, Wednesday until 8 pm, and Sunday noon-4 pm.Closed Mondays and holidays. Admission is free and open to the public.
Telephone: 781-283-2051
Web Site: www.davismuseum.wellesley.edu
Location: Wellesley College campus, 106 Central Street in Wellesley, Mass.
Parking: Free and available in the lot behind the museum. Additional parking is available in the Davis Parking Facility.
Tours: Wednesdays at 1 pm, led by student museum mentors and curators. Free. 781-283-3382
Accessible: The museum, Collins Café and Collins Cinema are wheelchair accessible and wheelchairs are available for use in the museum without charge. Special needs may be accommodated by contacting Director of Disability Services Jim Wice at 781-283-2434 or at jwice@wellesley.edu.
ABOUT THE DAVIS
One of the oldest and most acclaimed academic fine arts museums in the United States, the Davis Museum and Cultural Center is a vital force in the intellectual, pedagogical and social life of Wellesley College. It seeks to create an environment that cultivates critical thinking, inspires new ideas and fosters involvement with the arts both within the College and the larger community.
ABOUT WELLESLEY COLLEGE & THE ARTS

The Wellesley College arts curriculum and the highly acclaimed Davis Museum and Cultural Center are integral components of the College's liberal arts education. For decades, various departments and programs from across the campus have enlivened the community with world-class programming — classical and popular music, visual arts, theatre, dance, author readings, symposia, and lectures by some of today's leading artists and creative thinkers — most of which is free and open to the general public.

Since 1875, Wellesley College has been a leader in providing an excellent liberal arts education for women who will make a difference in the world. Its 500-acre campus near Boston is home to 2,300 undergraduate students from all 50 states and 75 countries.
###