2009 National Book Award Winner Colum McCann Visits Wellesley College on March 30
WELLESLEY, Mass.— Author Colum McCann, whose novel Let the Great World Spin won the 2009 National Book Award for Fiction, will visit Wellesley College on Tuesday, March 30, at 4:30 pm as part of the Newhouse Center for the Humanities' Distinguished Writer Series. The event, which will consist of a reading followed by a conversation with series curator Colin Channer and an open question-and-answer session, is free and open to the public.

Colum's Let the Great World Spin was also named Amazon.com's "Book of the Year" for 2009 and was on Oprah.com's "Books You Can't Put Down" Summer Reading Selection. Esquire Magazine, which named McCann "Writer of the Year," calls it "the first great 9/11 novel" and The New York Times, "one of the most electric, profound novels…in years."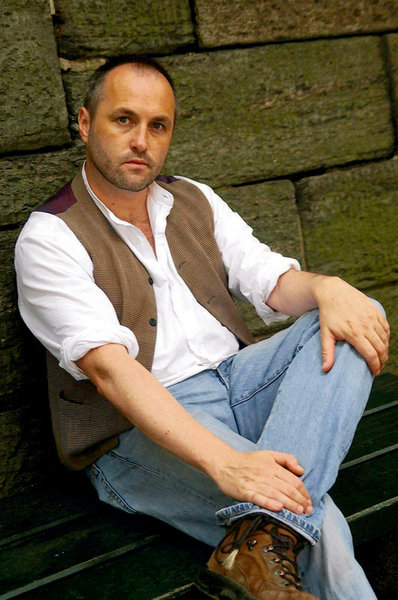 Colum McCann, winner of the 2009 National Book Award for Fiction, will visit Wellesley College as part of the Newhouse Center for the Humanities' Distinguished Writer Series.
McCann is the author of two collections of short stories and five novels, including This Side of Brightness (Picador, 2003), Dancer (Picador, 2004) and Zoli (Random House, 2006). His fiction has been published in 30 languages and has appeared in The New Yorker, The Atlantic Monthly, GQ, Paris Review, Bomb and elsewhere. He has written for numerous publications including The Irish Times, Die Zeit, La Republicca, Paris Match, The New York Times, the Guardia, and the Independent.
Colum's awards and honors include a Pushcart Prize, the Rooney Prize, the Hennessy Award for Irish Literature and the 2002 Ireland Fund of Monaco Princess Grace Memorial Literary Award.
His short film "Everything in this Country Must," directed by Gary McKendry, was nominated for an Academy Award in 2005.
Last May, Colum was inducted into Aosdana, the equivalent of the Irish Academy, one of Ireland's highest literary honors. Last fall, he was awarded a French Chevalier des arts et lettres by the French government, making him one of an exclusive number of foreign artists recognized in France for their literary contributions. Other recipients have included Paul Auster, Salman Rushdie, and Julian Barnes.

Colum was born in Dublin, Ireland, in 1965 and began his career as a journalist. In the early 1980s he took a bicycle trip across North America, then worked as a wilderness guide in a program for juvenile delinquents in Texas. After a year and a half in Japan, he and his wife, Allison, moved to New York where they currently live with their three children, Isabella, John Michael, and Christian.

Colum teaches at Hunter College in New York in the Creative Writing program, with fellow novelists Peter Carey and Nathan Englander.

His fifth novel, Let the Great World Spin, was released in the U.S. in June of 2009. The novel begins in August 1974 as a tightrope walker makes his way through the dawn light across the World Trade Center towers, stunning thousands of watchers below. Using the true story of Philippe Petit as a pull-through metaphor, McCann crafts a portrait of the city and a people. There's Corrigan, a radical young Irish monk, who struggles with his own demons as he lives among the prostitutes in the burning Bronx. Then there is a group of mothers who gather in a Park Avenue apartment to mourn the sons who died in Vietnam. They soon discover how much divides them even in their grief. Further uptown, Tillie, a 38-year-old grandmother, turns tricks alongside her teenaged daughter, determined not only to take care of her "babies," but also to prove her own worth.

Elegantly weaving together these and other seemingly disparate lives, McCann's powerful allegory of 9/11 comes alive in the unforgettable voices of the city's people, unexpectedly drawn together by hope, beauty and the tightrope walker's "artistic crime of the century." McCann's most ambitious work to date, Let the Great World Spin, has been described as a triumphant American novel. For more information, go to www.colummcann.com.
ABOUT THE NEWHOUSE CENTER FOR THE HUMANITIES
Founded in 2003 by a generous gift from Susan Marley Newhouse '55 and Donald Newhouse, the Newhouse Center for the Humanities generates and supports innovative, world-class programming in the humanities and arts. The Newhouse Center's mission is to create a dynamic and cosmopolitan intellectual community that extends from Wellesley College to the greater Boston-area and beyond. The Newhouse Center for the Humanities' 2010 Distinguished Writer Series is great way to discover new books, talk to authors about their work and meet fellow book-lovers.
For more information, visit www.wellesley.edu/NCH or call 781-283-2698 or e-mail Jane Jackson at jjackson@wellesley.edu.
ABOUT WELLESLEY COLLEGE & THE ARTS
The Wellesley College arts curriculum and the highly acclaimed Davis Museum and Cultural Center are integral components of the College's liberal arts education. For decades, various departments and programs from across the campus have enlivened the community with world-class programming — classical and popular music, visual arts, theatre, dance, author readings, symposia and lectures by some of today's leading artists and creative thinkers — most of which are free and open to the public.
Since 1875, Wellesley College has been a leader in providing an excellent liberal arts education for women who will make a difference in the world. Its 500-acre campus near Boston is home to 2,300 undergraduate students from all 50 states and 75 countries.
###