Wellesley Student Ana Lucía Medrano Fernández Awarded Funds
from Kathryn Wasserman Davis 100 Projects for Peace
WELLESLEY, Mass.— Thanks to two Wellesley College women, a grass-roots project to bring clean energy to the rural poor will get its start this summer.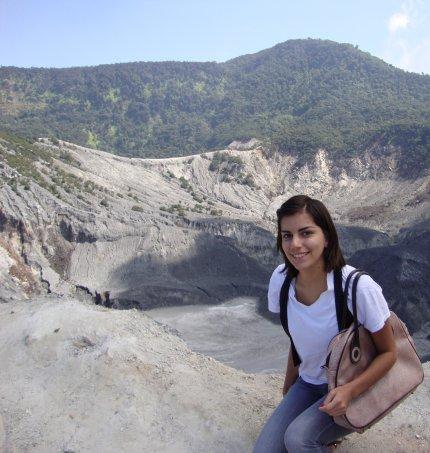 Davis Projects for Peace winner Ana Lucía Medrano Fernández will construct pollution-reducing stoves for homes in rural Guatemalan communities this summer. Above, on a trip to Indonesia.
The Kathryn Wasserman Davis 100 Projects for Peace program has announced that Wellesley College first-year student Ana Lucía Medrano Fernández, of San Bernardino, Calif., will receive funding for her project "Xelaju Stove Project: Building Brighter Futures with Energy-Effective Stoves" in her native country of Guatemala this summer.
The Projects for Peace initiative, now in its fourth year, is supported by Wellesley College alumna and trustee emerita Kathryn Wasserman Davis, an accomplished internationalist and extraordinary philanthropist. On the occasion of her 100th birthday in 2007, Davis established the program with her first donation of $1 million, providing each of the 100 student projects with $10,000. Davis, a member of the class of 1928, celebrated her 103 rd birthday this year.
"I want to use my birthday to once again help young people launch some initiatives that will bring new energy and ideas to the prospects of peace in the world," Davis said. "My many years have taught me that there will always be conflict. It's part of human nature. But love, kindness and support are also part of human nature, and my challenge to these young people is to bring about a mindset of preparing for peace instead of preparing for war."
For her project, Fernández will work with 30 indigenous students from Xelaju, Guatemala, to construct pollution-reducing stoves for homes in low-income rural communities. Many people there still use dung, bio-waste and firewood to cook and heat their homes. These open fires in dwellings create a lack of ventilation and increase health hazards, Fernández said. She hopes her involvement will encourage the local students to act on behalf of their communities.
"With the stoves, we will reduce the amount of money and trees used for firewood, improve air quality inside homes and reduce burns from open fires," she said. "The overall aim of the project is to empower youth to partake in the improvement of their impoverished communities."
Fernández, who plans to major in international relations and political science, was inspired to pursue the project by her concern about deforestation in Guatemala. She found much of the problem could be attributed to the need for firewood.
"I am passionate about the conservation of the environment as a means of achieving social justice," she said. "The way in which others destroy the environment inevitably affects the quality of the air we breath, the seasons and much more."
At Wellesley, Fernández has been part of the V-Day campaign and is active with Wellesley Rotaract, the young adult branch of Rotary International; Wellesley in Translation, a student organization that provides free translation services to non-profit organizations around the world; and Wellesley College volunteers. She is a contributing writer to the Wellesley News and currently in the play "The World of Girls." In San Bernardino, she participates in youth advocacy through Inland Congregations United for Change, which meets with city leaders to discuss youth concerns.
The 100 winning Projects for Peace, presented to students at Wellesley College and more than 90 other colleges and universities, all propose specific plans of action with lasting effects – from youth empowerment and education programs to improved community water supplies to a agrarian enterprises in countries where famine is pervasive. A complete list of participating schools and projects, as well as a video interview with Davis, is available at www.davisprojectsforpeace.org.
Since 1875, Wellesley College has been a leader in providing an excellent liberal arts education for women who will make a difference in the world. Its 500-acre campus near Boston is home to 2,300 undergraduate students from all 50 states and 75 countries.
###