Painted Songs & Stories: Pardhan Gond Art from India
Davis Museum and Cultural Center, Wellesley College
April 7 - June 6
FOR IMMEDIATE RELEASE:
March 25, 2010

CONTACT: Nina J. Berger
High-resolution images and interviews upon request
781-283-2034, nberger@wellesley.edu

WELLESLEY, Mass.— The first American exhibit celebrating contemporary Pardhan Gond art from India, Painted Songs & Stories, will be on view at the Davis Museum and Cultural Center at Wellesley College April 7-June 6. Filled with wonder, adventure and directness of expression, these delightful visual narratives will appeal to children and adults alike. An opening reception will be held Wednesday, April 7 from 5-7 pm and an illustrated catalog will be available.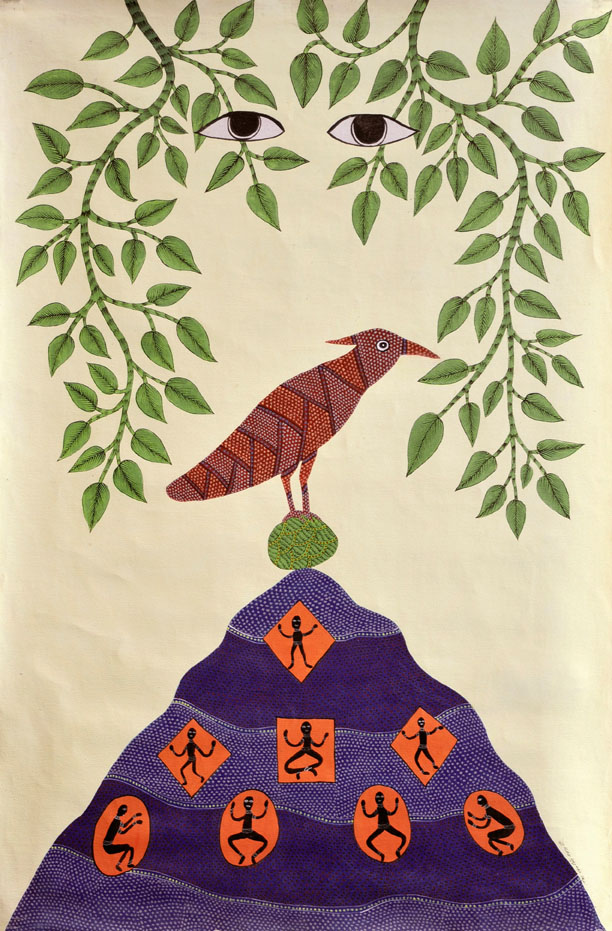 Painted Songs & Stories features the works of eight contemporary artists belonging to a tribal clan of central India, the Pardhan Gonds, who traditionally served as professional bardic priests. Starting in the early 1980s, certain talented Pardhan Gonds (Jangarh Singh Shyam and his successors) began transforming their ritual performing arts into a new tradition of figurative and narrative visual art.

Using a variety of media (including acrylic paintings on canvas, ink drawings on paper, silkscreen prints and animated film), they have created unprecedented depictions of their natural and mythological worlds, traditional songs and oral histories.The result is a new, hybrid visual art combining tribal subject matter with modern media and non-tribal patronage.

Flying elephants, musical monkeys, a dancing peacock, a raja and his winged steed, various gods, goddesses, demons and everyday village scenes—all painted in bright, multicolored hues—open a window onto Gond life and mythology. Rich in detail, color, mystery and humor, these colorful and captivating artworks brilliantly explore the transformation of communal and ritual forms of expression into signed artworks intended for urban, national and international markets and exhibitions.
Painted Songs & Stories features works from the private collection of art historian John H. Bowles and is organized by the Wellesley College South Asia Studies Program. According to Bowles, "The Gond tribal peoples of central India first came to broad international notice as inhabitants of the remote wilderness described in Rudyard Kipling's famous 19th-century "Jungle Book" novels. Yet, in India, the tribe's Pardhan Gond clan was already known for its great storytellers—with their own tales to tell—who served their people for centuries as itinerant professional bards, priests, genealogists and oral historians. In recent years, numerous Pardhan Gonds have moved to the city of Bhopal, where they have developed a hybrid art style combining traditional subject matter with modern media.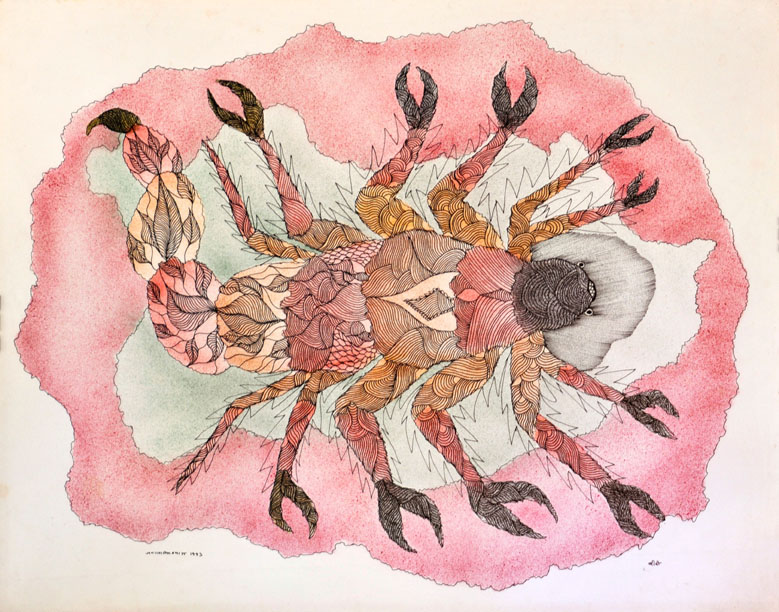 "This exhibition and its accompanying catalog trace the evolution of these arts from the 1981 chance discovery of a single artistic genius— 21-year-old Pardhan Gond villager Jangarh Singh Shyam—into an internationally recognized contemporary tribal art movement that continues to flourish under his successors. How this movement developed reveals both the prejudices and challenges of modernity faced by contemporary tribals, and their resilience and capacity for masterful innovation—adapting themselves and their traditional culture to new circumstances and livelihoods within a globalizing India and the postmodern international art world."

EXHIBITION EVENTS
OPENING RECEPTION
WEDNESDAY | April 7 | 5-7 pm
SYMPOSIUM – THE GOND AND BEYOND:
THE PREDICAMENT OF CONTEMPORARY 'ETHNIC' ARTS
SATURDAY | APRIL 10 | 10 am-5 pm | COLLINS CINEMA, WELLESLEY COLLEGE
The Wellesley College South Asia Studies Program will host a symposium to explore aesthetic, religious and political questions involved in the evolution of tribal visual art created for non-tribal art markets. A light lunch will be served.

PAINTED SONGS & STORIES FAMILY DAY @ THE DAVIS
SUNDAY |APRIL 18 | 1-3 pm
Children of all ages and their adult friends are invited to enjoy an interactive afternoon of gallery activities led by Wellesley students that will relate to the Gond artworks.

A complementary exhibit of Indian art will also be on view at the Davis this spring:
Seeing God in Prints: Indian Lithographs from the Collection of Mark Baron and Elise Boisanté (February 24 – June 6)

An exhibition of late 19th- and early 20th-century color prints of Hindu gods and goddesses, this exhibition tells the story of how the worship of Hindu deities became entwined with the export of printmaking expertise from Europe to India. These widely distributed devotional lithographs were printed first in Europe, and later at Indian-run commercial color presses, and became ubiquitous in commercial and domestic spaces across India. The exhibition will trace the history of this genre, and includes important examples of 19th-century prints produced in Germany for export to India, the earliest examples printed by the first Indian-run presses, and classic lithographs from the most famous early and mid-20th century Indian publishers.
The exhibition is the first formal presentation in the United States of this genre of Indian art. It was organized by the International Print Center New York as part of their touring exhibition program, where it was exhibited last spring.
Davis Museum and Cultural Center Hours and Information

Museum hours are Tuesday–Saturday, 11 am-5 pm, Wednesday until 8 pm, and Sunday, noon-4 pm. Closed Mondays and holidays. Admission is free. Telephone: 781-283-2051
Web site: www.davismuseum.wellesley.edu
Location: Wellesley College campus, 106 Central Street in Wellesley, Mass.
Parking: Free and available in the lot behind the museum. Additional parking is available in the Davis Parking Facility.
Tours: Wednesdays at 1 pm. Led by student museum mentors and curators. Free. Call 781-283-3382.
Accessible: The Davis Museum, Collins Café and Collins Cinema are wheelchair accessible and wheelchairs are available for use in the museum without charge. Special needs may be accommodated by contacting Director of Disability Services Jim Wice at 781-283-2434 or jwice@wellesley.edu.

ABOUT THE DAVIS

One of the oldest and most acclaimed academic fine arts museums in the United States, the Davis Museum and Cultural Center is a vital force in the intellectual, pedagogical and social life of Wellesley College. It seeks to create an environment that cultivates critical thinking, inspires new ideas and fosters involvement with the arts both within the College and the larger community.

ABOUT WELLESLEY COLLEGE & THE ARTS

Wellesley has been collecting and exhibiting visual art since 1889 — making the College one of the first liberal arts institutions to establish a teaching collection. The Wellesley arts curriculum and its highly acclaimed Davis Museum and Cultural Center are integral and irreplaceable components of the College's liberal arts education. Wellesley also offers many outstanding exhibits, performances and lectures that are free of charge and open to the public.

Since 1875, Wellesley College has been a leader in providing an excellent liberal arts education for women who will make a difference in the world. Its 500-acre campus near Boston is home to 2,300 undergraduate students from all 50 states and 75 countries.
###