Wellesley's Claire Fontijn Honors Her Mentor and Music Scholar
with a Collection of Essays
WELLESLEY, Mass.— As a graduate student at Duke University, Wellesley College music professor Claire Fontijn met Alexander Silbiger, who had established a new program where musicians could combine their careers as performers with a branch of musicology known as performance practice. Under his guidance, she continued her career as a baroque flutist and, w hen it came time to pursue her dissertation, she chose Silbiger, an authority on Baroque keyboard music, as her advisor.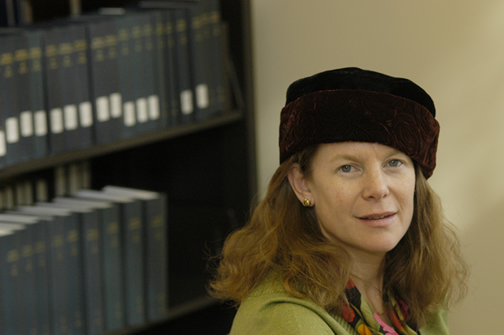 "He is a brilliant scholar whose musicianship guides his thinking — unusual in a field where many tend to treat written music as an inanimate object," she said.
In 2002, Fontijn returned to Duke to speak at her professor's retirement ceremony. As their conversations continued, she found she had another connection with Silbiger— both of their families were among the few to have survived the Dutch Holocaust. It was then that she decided she wanted a special way to honor her long-time mentor.
On the occasion of Silbiger's 75 th birthday, Fontijn has edited the collection "Fiori Musicali: Liber Amicorum Alexander Silbiger" (Harmonie Park Press, April 2010), in collaboration with Dr. Susan Parisi. The title refers to the important book of keyboard music published by Roman composer Girolamo Frescobaldi in 1635.
The volume of 20 essays, by authors from the United States, France, Switzerland, Italy and Germany, discusses the various research interests of Silbiger. The collection traces his career — from the completion of his first doctorate in engineering mechanics to present — and offers a portrait of him as a scholar, performer, teacher and mentor.
"The book reflects Professor Silbiger's main areas of teaching and research, ranging from new theories about the dating of Frescobaldi's European manuscripts to a rare book showing how J.S. Bach's ' Well-Tempered Clavier' was performed in the United States in the early 20 th century, and from a study of the poignant role played by the viola da gamba in Bach's celebrated ' St. Matthew Passion,' to a manuscript now in Cincinnati preserving the cantorial music of a German synagogue before it was utterly destroyed," Fontijn said.
As Wellesley's Barbara Morris Caspersen associate professor in music, Fontijn teaches several courses including the history of western music, Hildegard of Bingen, gender and music, German art song, and opera. She earned a B.A. from Oberlin College, a certificate in baroque flute performance from the Royal Conservatory of the Hague and an M.A. in performance practice and a Ph.D. in musicology from Duke.
She has published articles on flute-playing techniques of the 18th century and on creative women of the Baroque period. For her research on Antonia Bembo, a Venetian noblewoman who composed music for Louis XIV in France, Fontijn received fellowships from the Woodrow Wilson National Fellowship Foundation, the National Endowment for the Humanities, the French government, and the Gladys Krieble Delmas Foundation for Research in Venice. Her first book, Desperate Measures: The Life and Music of Antonia Padoani Bembo (Oxford University Press, 2006) was awarded the Nicolas Slonimsky Award for Outstanding Musical Biography from the American Society of Composers, Publishers and Authors. Fontijn is currently researching her next musical biography, which, like the first, draws its narrative from archival material in Europe.
Since 1875, Wellesley College has been a leader in providing an excellent liberal arts education for women who will make a difference in the world. Its 500-acre campus near Boston is home to 2,300 undergraduate students from all 50 states and 75 countries.
###