Core Matters: Students, Faculty, Collections
A Symposium for College and University Art Museums
WELLESLEY, Mass.— An upcoming event at Wellesley College will explore the question "To what end do academic art museums exist?"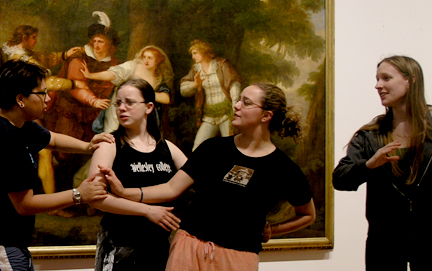 Wellesley students peforming Shakespeare in the galleries. Angelica Kauffmann's oil painting, Valentine, Proteus, Sylvia and Giulia in the Forest (Scene from "Two Gentlemen in Verona" Act V, Scene IV), appears in the background.

On Friday, April 30, and Saturday, May 1, Wellesley's Davis Museum and Cultural Center will host "Core Matters: Students, Faculty, Collections," a symposium for college and university art museums. This symposium provides an opportunity for museum professionals and the Wellesley College community to think together about the unique role of museums in higher education in light of changes in the economy, academia and a new generation of student audiences.
Two events are free and open to the public: The keynote address given by art historian James Elkins from the School of the Art Institute of Chicago, whose many publications include What Painting Is and How to Use Your Eyes, and the capstone address by novelist and essayist Mark Slouka, professor of English at the University of Chicago. A contributing editor for Harper's Magazine, Slouka addresses democracy, education and the critical role of the arts. All of the workshops are already at full capacity.
Core Matters will concentrate on the power and impact of direct experiences with works of art and the implications for the role of college and university art museums within their educational institutions. Issues of collection display, evaluation, student audiences and faculty outreach will be examined through a series of panel discussions, conversations and dialogues.
Among those participating are Wellesley faculty, staff and students and museum professionals including Ian Berry, James Elkins, Lisa Fischman, Pamela Franks, Sarah Ganz Blythe, Rich Gorham, Dabney Hailey, Carin Jacobs, Cheryl Kerfeld, Randi Korn, Dennis McFadden, Alexa Miller, Beth Musser, Matt Sikora, Emily Skidmore, Ruth Slavin, Mark Slouka, Joaneath Spicer, Julie Stein, Shari Tishman, Lucy Trench, John Weber, Ray Williams and Philip Yenawine.

The symposium arises from the Davis Museum's reinstallation of its permanent collection, an effort that began in 2006 with funding from the Getty Trust. The project engendered a shift away from a strictly chronological and geographical presentation toward a topically organized display. It further entailed systematic methods of audience research and calibrated curatorial response. These efforts yielded unexpected changes, both in the programming of the galleries and the museum's examination of its impact on student audiences.
Symposium Schedule
FRIDAY, APRIL 30
2- 4:30 pm
Welcome
Professional Practice Workshops
Student Audiences, Student Psyches
Evaluation: Planning for Impact
Object Lessons for Faculty Engagement Across the Curriculum
5 pm
Keynote address: James Elkins, in Jewett Auditorium
SATURDAY, May 1
9 am – 4 pm
Professional Practice Workshops
The Challenge of the Student Viewer
Practical Tools for Formative Evaluation of Interpretives
Faculty as Co-Curators
Panel Presentations:
Learn by Doing: The Museum as Laboratory
Presenting Collections
4:15 pm – 5:45 pm
Capstone address: Mark Slouka, in Collins Cinema
Core Matters is funded by Wellesley College Friends of Art, the Marjorie Copland Baum Memorial Fund, Betsy Patterson Colburn Endowed Fund for Davis Museum Program Support, S. Jane Burrell Lacy '49 and Benjamin Lacy Endowed Fund for Acquisitions and Programs, Massachusetts Cultural Council, The Andrew W. Mellon Foundation, E. Franklin Robbins Art Fund, Judith Blough Wentz '57 Museum Programs Fund, and Mary Tebbetts Wolfe '54 Program Endowment.
Currently at the Davis: "Something Like Fireworks," A New Installation by Stephen Vitiello; two complementary Indian art exhibits: Seeing God in Prints: Indian Lithographs from the Collection of Mark Baron and Elise Boisanté, and Painted Songs & Stories: Contemporary Pardhan Gond Art from India (opening April 7); Christine Hiebert's Reconnaissance: Three Wall Drawings; and Michael Singer's Ritual Series/Retelling – on view until June 6.

Davis Museum and Cultural Center Hours and Information
Museum hours are Tuesday–Saturday, 11 am-5 pm, Wednesday until 8 pm, and Sunday, noon-4 pm. Closed Mondays and holidays. Admission is free. Telephone: 781-283-2051 - Web site: www.davismuseum.wellesley.edu
Location: Wellesley College campus, 106 Central Street in Wellesley, Mass. Parking: Free and available in the lot behind the museum. Additional parking is available in the Davis Parking Facility.
Tours: Wednesdays at 1 pm. Led by student museum mentors and curators. Free. Call 781-283-3382.
Accessible: The Davis Museum, Collins Café and Collins Cinema are wheelchair accessible and wheelchairs are available for use in the museum without charge. Special needs may be accommodated by contacting Director of Disability Services Jim Wice at 781-283-2434 or jwice@wellesley.edu.
Directions and a map of Wellesley College are online at http://new.wellesley.edu/Admin/travel.html.
ABOUT THE DAVIS

One of the oldest and most acclaimed academic fine arts museums in the United States, the Davis Museum and Cultural Center is a vital force in the intellectual, pedagogical and social life of Wellesley College. It seeks to create an environment that cultivates critical thinking, inspires new ideas and fosters involvement with the arts both within the College and the larger community.

ABOUT WELLESLEY COLLEGE & THE ARTS
Wellesley has been collecting and exhibiting visual art since 1889 — making the College one of the first liberal arts institutions to establish a teaching collection. The Wellesley arts curriculum and its highly acclaimed Davis Museum and Cultural Center are integral and irreplaceable components of the College's liberal arts education. Wellesley also offers many outstanding exhibits, performances and lectures that are free of charge and open to the public.
Since 1875, Wellesley College has been a leader in providing an excellent liberal arts education for women who will make a difference in the world. Its 500-acre campus near Boston is home to 2,300 undergraduate students from all 50 states and 75 countries.
###