Wellesley's Katharine Moon Named Among 'Best and Brightest'
for Asian Studies Honor
WELLESLEY, Mass.— The National Bureau of Asian Research and the Woodrow Wilson International Center for Scholars has announced that Wellesley's Katharine H.S. Moon will join the first class of research associates at the National Asia Research Program (NARP).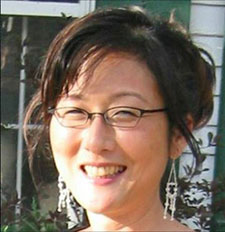 Moon, professor of political science and the Edith Stix Wasserman chair of Asian studies at Wellesley, will join 39 outstanding scholars of Asia — who were chosen through a competitive, nationwide selection — for two-year terms.
The NARP is a new research and conference program designed to reinvigorate and promote the policy-relevant study of Asia, particularly by highlighting the research of NARP Associates and Fellows, who will present their work at the June 17-18 inaugural Asia Policy Assembly in Washington, D.C.
"Our goal in this new program is to highlight and reward scholars who have successfully bridged the gap between the academy and policy," said NBR President and NARP co-director Richard Ellings. "America's future security, prosperity and well-being will be deeply linked with Asia's future, and thus America needs some of its best and brightest to understand our interests in Asia — and the history, nations, peoples and issues of Asia. In short the NARP is responding to the needs for information and assessment arising from the shift in locus in world power from the Atlantic to the Pacific."
Moon is the author of " Sex Among Allies: Military Prostitution in U.S.-Korea Relations" and other publications on the U.S.-Korea alliance and social movements in Korea and Asia, such as democratization, women's movements, migrant workers and human rights. Currently, she is completing a book manuscript " Protesting America, Pursuing Democracy: Korean Civil Society in Alliance Politics." Moon received a Fulbright Senior Research Fellowship in 2002 to conduct field research in Korea on this subject and was a visiting scholar at the Woodrow Wilson International Center for Scholars and the Sigur Center for Asian Studies at the George Washington University in 2002-03.
Moon has served in the Office of the Senior Coordinator for Women's Issues in the U.S. Department of State and as a trustee of Smith College. She serves on the editorial board of several journals of international relations and consults for NGOs in the U.S. and Korea. She also serves on policy task forces designed to examine current U.S.-Korea relations and contributes op-eds to various media organizations. Moon received her B.A. from Smith College, magna cum laude, and her Ph.D. from Princeton University, Department of Politics.
"The selection of these top scholars from across the United States marks the beginning of a new national association for U.S. experts who care about policy issues related to Asia," said Robert Hathaway, Asia Program Director at the Wilson Center and co-director of the NARP. "The enthusiastic response we've seen to the NARP is a good indication of the potential we have to achieve our goal of strengthening and reinvigorating the policy-relevant study of Asia."
Since 1875, Wellesley College has been a leader in providing an excellent liberal arts education for women who will make a difference in the world. Its 500-acre campus near Boston is home to 2,300 undergraduate students from all 50 states and 75 countries.
###