Wellesley College President H. Kim Bottomly Participates in
Department of Homeland Security and Higher Education Roundtable
WELLESLEY, Mass.— Wellesley College President H. Kim Bottomly participated in a roundtable discussion with Department of Homeland Security (DHS) Secretary Janet Napolitano and higher education leaders at the Massachusetts Institute of Technology Friday, April 16.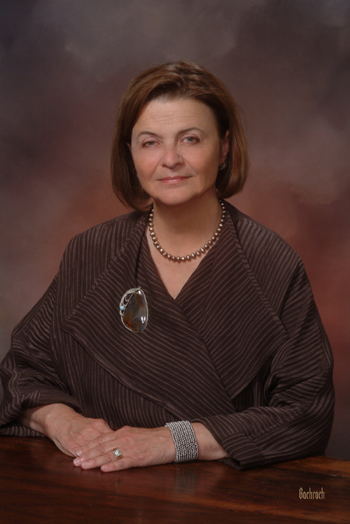 "We discussed, among other things, how colleges and universities can work with government to develop the world's next generation of leaders in public service," Bottomly said.
The meeting focused on ways to increase collaboration and engage the talents of the nation's best and brightest instructors and students to support DHS — particularly in the fields of cybersecurity and science and technology research.
"I look forward to expanding our partnerships with academic institutions on educational programs and hiring initiatives that enhance our capabilities to protect our nation against evolving threats," said Napolitano.
OTHER NEWS & EVENTS:
March 26: President Bottomly participated in the panel, "Women in Higher Education Today — and Tomorrow" at Yale University. Joining her in the discussion were Karen Lawrence, the president of Sarah Lawrence College, and Kimberly Goff-Crews, former Wellesley dean of students and now vice president for campus life and dean of students at the University of Chicago. More than 500 alumni and guests attended the event on women's leadership, work, athleticism, research and service, celebrating 40 years of coeducation at Yale. Bottomly was deputy provost for science, technology and faculty development and a professor of Immunobiology at Yale before coming to Wellesley as president in 2007.
April 10: President Bottomly gave introductory remarks at the "Communicating Science Symposium" at 10 am in the Wellesley College Science Center. The symposium, hosted by Wellesley Energy and Environmental Defense (WEED), aims to open a dialogue among disciplines on the communication of science. Other guests include James Hansen, director of the NASA Goddard Institute for Space Studies; Peter Thomson, founder of NPR's environmental news program, "Living on Earth"; Richard Miller, president of Olin College; Dan Grossman, a print journalist and radio producer; and David Chandler, a science writer and environmental journalist.
June 9-16: President Bottomly will visit Hong Kong to participate in the Asia Pacific Women's Leadership Initiative and visit with alumnae in the area.
July 5-11: President Bottomly will speak at the Aspen Ideas Festival in Aspen, Colo. Sponsored by the Aspen Institute and The Atlantic, the festival draws significant leaders from varied disciplines to engage in deep discussion around particular topics. One of this year's overarching themes is "Women and Girls: The Solution," and Bottomly will participate in the sessions "The Century of Biology" and "Ideas in Education."
Since 1875, Wellesley College has been a leader in providing an excellent liberal arts education for women who will make a difference in the world. Its 500-acre campus near Boston is home to 2,300 undergraduate students from all 50 states and 75 countries.
###