Wellesley Celebrates Student Research at Ruhlman Conference April 28
Students Will Explore Topics from Threatened Habitats in the Galápagos
to Luxury Items in the Great Recession
WELLESLEY, Mass.— Do politicians have a greater ability to remember faces? Does accessible health care make a difference? Do our parents' relationships shape our own?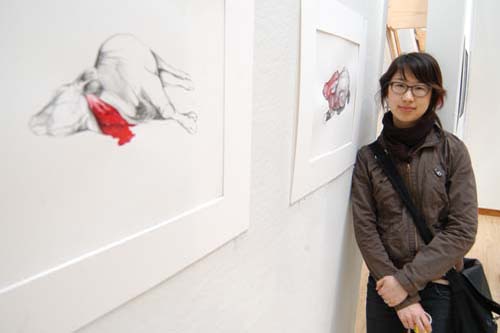 Wellesley College students will explore these questions and many more at the 2010 Ruhlman Conference Wednesday, April 28, from 8:30 am- 5:40 pm on the Wellesley campus. The conference will feature presentations by more than 300 Wellesley students, with projects ranging from "El Vez Lives!: Elvis Presley Tribute Artists Across Race and Gender" to "Designing an Edible Ecosystem Garden at Wellesley." The event is free and open to the public.
The Ruhlman Conference helps to foster collaboration among students and faculty across academic disciplines. Reflecting the diversity of student interest and accomplishment, it presents work in a variety of formats: papers, panels, posters, exhibitions, musical and theatrical performances, interactive teaching presentations and readings. The day is organized around seven themes: Cross Cultural Research, Economic Issues, Environmental Issues, Literature and the Arts, Political Development, Science and Technology, and Social Analysis.
The wide-ranging topics make the Ruhlman Conference an exceptional event. Under the theme of literature and arts, for example, you can choose among 24 presentations, including "Live and Let Laugh" a performance by Wellesley improvisational comedy group Dead Serious.
For another project, seniors Sara Propp and Alexandra Solimano examined the costs and benefits of potential solutions to terrorism.
"Unlike some other global crises, transnational terrorism kills relatively few people every year, yet the fear of an attack is pervasive," the students wrote. "Consequently governments pour millions of dollars into anti-terrorism campaigns. Terrorism is not often examined from an economic perspective and many of these solutions are not cost efficient."
Junior Casey Sedlack conducted a survey to see how well adults over 40 detect the use of sarcasm in conversation, as compared to young adults between the ages of 18 and 25.
"The results reveal some interesting patterns that link the detection of sarcasm to age differences," she noted. "They also provide some insight as to why we think we're funny, but many of our parents tend to think otherwise."
For more information and a complete schedule of events, visit www.wellesley.edu/DeanCollege/Ruhlman/home.html.
Free parking is available in the Davis Parking Facility. Directions and a map of Wellesley College are online at www.wellesley.edu/Admin/travel.html.
Since 1875, Wellesley College has been a leader in providing an excellent liberal arts education for women who will make a difference in the world. Its 500-acre campus near Boston is home to 2,300 undergraduate students from all 50 states and 75 countries.
###