Wellesley College Hosts Boston Grand Challenge Summit,
Tackling the Educational Imperatives of Our Times
Wellesley College President H. Kim Bottomly, left, and Linda Wertheimer, NPR correspondent, member of Wellesley Class of 1965 and moderator of the Grand Challenge Summit Boston.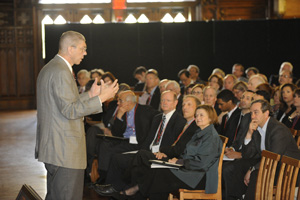 Clayton Christensen of Harvard Business School, addressing the Grand Challenge Summit at Wellesley College April 21.
Themed table discussions on the challenges of our times were held over lunch.
Photos by Richard Howard
WELLESLEY, Mass. — The National Academy of Engineering's Boston Grand Challenge Summit attracted students and faculty as well as representatives from government agencies and industry to Houghton Memorial Chapel at Wellesley College on April 21.

Moderated by National Public Radio senior national correspondent Linda Wertheimer (Wellesley class of 1965) and co-sponsored by Wellesley, Olin and Babson colleges, the day-long meeting marked the NAE's first Grand Challenge summit on a liberal arts campus. The programs are held regionally to address 14 major engineering problems.

The Boston summit differed in that its keynote addresses and panel discussions took on the question of "educational imperatives" of the Grand Challenges. The speakers and participants considered topics including the growing role of online learning, the state of K-12 science, technology, engineering and math (STEM) instruction, and the importance of project-based learning and group work.

The location allowed Olin, Babson and Wellesley students to demonstrate their increasing partnerships, which focus on feasibility, viability and desirability in design and engineering concepts.

Student posters and presentations showed how their backgrounds in engineering, business and liberal arts complement and enhance each other.

In addition, Olin College President Richard K. Miller announced the launch of a three-campus Sustainability Certificate, which is currently under review by the three colleges' curriculum committees and is expected to begin enrolling students from each of the campuses in the fall of 2011. Winners of the Student Design and Extraordinary Stories competitions were announced and many of them were on hand to receive their awards.
Since 1875, Wellesley College has been a leader in providing an excellent liberal arts education for women who will make a difference in the world. Its 500-acre campus near Boston is home to 2,300 undergraduate students from all 50 states and 75 countries.
— by Amy Mayer '94
###