Two Wellesley College Juniors Awarded Barry M. Goldwater Scholarships
WELLESLEY, Mass.— Wellesley College juniors Kara Feilich, of Lynbrook, N.Y., and Yomay Shyur, of Sunnydale, Calif., have been awarded Barry M. Goldwater Scholarships, the premier undergraduate award of its type in the fields of mathematics, the natural sciences and engineering.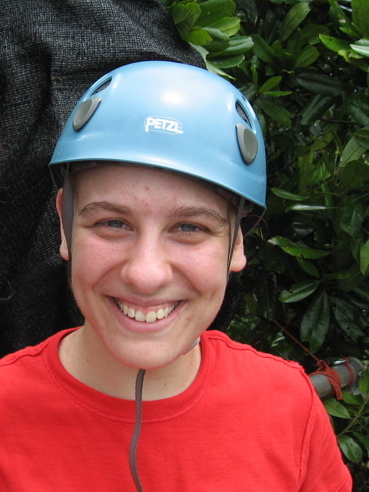 Goldwater scholars Kara Feilich, above, doing research in the rainforest of Costa Rica, and Yomay Shyur, below.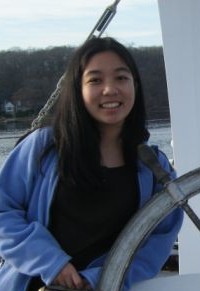 The scholarships will cover the cost of tuition, fees, books, and room and board up to a maximum of $7,500 per year.
Feilich, a biological sciences major, is interested in the study of biomechanics, or looking at how animals and plants move. By analyzing an animal's movement, Feilich looks at limits in performance and gains insight into what shapes that organism, how it lives and what's important in its life. She has worked independently on a project to investigate the effects of temperature changes on snail locomotion.
"I love knowing how things work," she said. "That's why I like mechanics. I think biological questions, especially evolutionary ones, are the most interesting. Biomechanics is wonderfully integrative in that it lets me do both — biology and mechanics. I can ask how a snail moves, how well it moves, how energetically expensive it is for the snail to move and, ultimately, draw inferences about why the snail is the way it is."
Feilich has been involved in a wide range of projects in the laboratory of David Ellerby, assistant professor of biology at Wellesley. She is a co-author of a paper on ballistic seed dispersal and presented a talk on medicinal leech feeding behavior and energetics at the 2009 Ruhlman Conference at Wellesley College and at the 2009 Society for Integrative and Comparative Biology meeting in Boston.
Shyur, a physics major, is interested in the study of astrophysics and atmospheric science. She is currently working in the chemistry lab of Wellesley College Professor of Chemistry Chris Arumainayagam, studying low-energy electron-induced reactions in condensed matter.
Shyur is a co-author with Arumainayagam of a recent publication, "The Role of Low-Energy Electrons in the High-Energy Radiolysis of Condensed CF 3I ." She has made presentations about this work at the 56 th International Symposium of the American Vacuum Society in San Jose, Calif., the 12 th annual meeting of DIET (Desorption Induced by Electronic Transition) and the 239th National Meeting of the American Chemical Society.
Last summer, Shyur spent 10 weeks on a research internship at the National Institute of Standards and Technology (NIST) in Gaithersburg, Md., where she will return this summer for another 10-week program. In 2008, she spent five weeks working in the laboratories of the Fourier Transform Spectroscopy group at Imperial College in London.
Following graduation, Feilich plans to study evolutionary biology with a biomechanics focus. She ultimately plans to become a biology professor, create her own research program and write about science for the public.
Shyur plans to obtain a Ph.D. in physics and do research in a national laboratory.
Since 1875, Wellesley College has been a leader in providing an excellent liberal arts education for women who will make a difference in the world. Its 500-acre campus near Boston is home to 2,300 undergraduate students from all 50 states and 75 countries.
###