Wellesley's William Joseph Offers a Political History of China
in New Book
WELLESLEY, Mass.— It was the summer of 1966 when William Joseph first stepped into a University of California at Berkeley classroom to learn about China.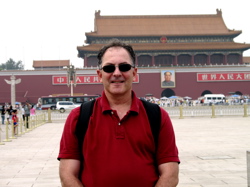 "My interest had been piqued by events unfolding in Beijing (we called it "Peking" then) as the Red Guards — university students like myself — were challenging professors about their political views and methods of education during the very early stages of China's Great Proletarian Cultural Revolution," recalls Joseph, a professor of political science at Wellesley College. "It was a tumultuous time on American and European college campuses, too, and the youthful rebellion against authority in China seemed to many to be part of a global generational movement."
Joseph's interest in China continued to grow as the nation transformed from one of the poorest countries in the world to today's rapidly modernizing economic dynamo with an expanding global influence. More than 40 years after taking his first course, Joseph has edited a new introductory textbook on Chinese politics, "Politics in China: An Introduction" (Oxford University Press, March 2010).
"Politics in China" explores China's transformation and how the nation is governed today. Written by an international team of highly regarded China scholars, each chapter offers an overview of a key topic in Chinese politics — from the era of communist rule under Mao Zedong to the nation's population policy.
Joseph is an associate in research of the John King Fairbank Center for Chinese Studies at Harvard University. His research interests are Chinese politics and ideology, the political economy of East Asian development and the Vietnam War.
He is the author of "The Critique of Ultra-Leftism in China" and editor or co-editor of several other volumes, most recently "Introduction to Comparative Politics: Political Challenges and Changing Agendas" (5 th ed., 2009) and "Introduction to Politics in the Developing World" (5th ed., 2009). He received his undergraduate degree at Cornell University, and a master's degree in East Asian studies and a Ph.D. in political science at Stanford University.
Since 1875, Wellesley College has been a leader in providing an excellent liberal arts education for women who will make a difference in the world. Its 500-acre campus near Boston is home to 2,300 undergraduate students from all 50 states and 75 countries.
###