Commencement Speaker Lynn Sherr Tells Wellesley Graduates
To Celebrate the Changes and To Run for President: "It's Our Tradition"
WELLESLEY, Mass.— Calling herself "living, breathing proof that Wellesley does indeed open the doors to the planet," ABC News journalist and alumna Lynn Sherr congratulated – and encouraged – the 589 members of the Wellesley College class of 2010 on Friday, May 28, during the college's 132nd Commencement. (Click here for Sherr's speech.)
She had some career advice for them, too, from women's suffragist Susan B. Anthony and echoed more recently in the 2008 presidential election with candidate Hillary Rodham Clinton, Wellesley class of 1969.
"Just in case you are wondering what direction to take, consider one more thing Miss Anthony said. It was 1905. 'I firmly believe," she predicted, 'that some day a woman will be elected president of the United States.' I urge you to go for it. It is our tradition. And it's about time."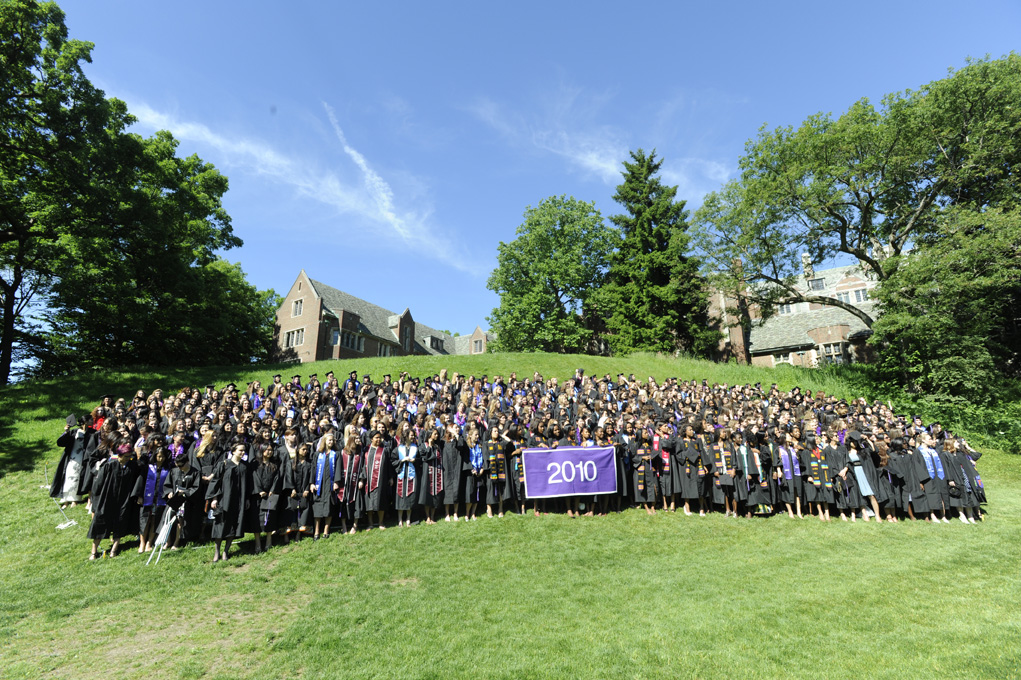 The world was not always so welcoming for women as it is today, Sherr noted, when women are accepted as global leaders.
"Most of those doors were in fact barred to women when I graduated from Wellesley in 1963 – another century, another era," she said.
"As women – or 'girls,' as they called us – we were not invited to participate in the working world except at the very lowest levels. But thanks to the knowledge we gained and the courage we inhaled on this campus, we figured it out," Sherr noted. "We smashed the barriers so that you – every one of you – can now walk into any doorway that you want."
Sherr, who worked for years as an award-winning ABC News correspondent, challenged the class of 2010 to help others now, saying, "That's the way it works. Pay it forward, when you're ready to do the same."
She said she hoped they would take up the cause of feminism.
"I urge you not to reject "feminism" as a four-letter word," she said. "It is a good, precise term. It means you believe that women are people [interrupted by cheers] – thank you – who have rights and responsibilities equal to those of men. Nothing more, nothing less. And it doesn't signify warfare. Because men are not the enemy, and we are only part of the solution. We're all flying on this planet together."
As a correspondent with ABC News' 20/20, Sherr focused on investigative reports, national politics and women's issues. She also reported regularly on NASA Space Shuttle missions. Before joining 20/20, Sherr was a national correspondent for ABC News, which she joined in 1977. The author of a memoir and several books, she received the Wellesley College Alumnae Achievement Award in 1988 and served as an alumnae trustee from 1998 to 2004.
Student Commencement Speaker Mira Sethi of Pakistan described the reasons she and her fellow classmates decided to attend Wellesley, when so often they hear the question, "why go to an all-women's college when real-life is co-ed?" (Click here for Sethi's speech.)
"The answer is quite simple," she said. "Being in a place like Wellesley makes us all the more eager, wiser and readier to cope with the challenges of life. It breeds courage – the ability to first identify what one believes, then to stand up and fight for those convictions. It breeds a certain hunger – the desire to make the most of every experience, to have a go – each and every one of us – at that glass ceiling."
Wellesley College President H. Kim Bottomly presented her "Charge to the Class," drawing on one of Wellesley's oldest traditions. Since 1877, each class chooses a tree to plant on campus, which forever is known as the Class Tree.
"We at Wellesley hope you will come home often to sit in the shade of your tree, and to take comfort in the shade of your Wellesley memories," she said. "Look at your still-small tree today. Hold it in your mind. Then come back and see it again in five years, and in 50 years. It will be here then, like us, waiting for you. You are a Wellesley woman now, and, like your tree, you will always belong here." (Click here for Bottomly's speech.)
For more on the 2010 commencement, including photos, speeches and more, visit Commencement/index.html.
Since 1875, Wellesley College has been a leader in providing an excellent liberal arts education for women who will make a difference in the world. Its 500-acre campus near Boston is home to 2,300 undergraduate students from all 50 states and 75 countries.
###