Wellesley Student Wins Scholarship for Green Housing Design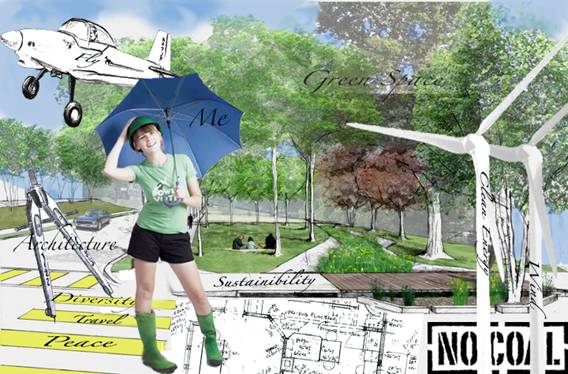 Wellesley College student Mayrah Udvardi's winning entry, as shown above, represents her plan
to enter the field of sustainable design.
WELLESLEY, Mass.— Mayrah Udvardi , a first-year student at Wellesley College this fall, has won the Church Hill Classics "Frame My Future" Scholarship Contest. Udvardi, of Corvallis, Ore., was one of five winners chosen from more than 9,000 entries received from every state in the U.S.
Her entry represents her hopes to be a leader in the field of sustainable design.
"I climb rooftops to experience the visual pleasure of fine details, the broad strokes of skyline silhouettes," she said. "I believe the world is just waking up from a dream of particleboard housing. Sustainable design is heading into an era of construction that will integrate environmental health, economic profitability, and social equity. I hope to be a leader in this movement, not because I see the world as a horrible place, but because I see a future filled with so much potential."
The nationwide contest asked students to submit an original design, creating an image that expressed what they hope to achieve in their personal and professional life after college. Entries included photographs, poems, essays, collages, drawings, paintings and other imaginative pieces.
Since 1875, Wellesley College has been a leader in providing an excellent liberal arts education for women who will make a difference in the world. Its 500-acre campus near Boston is home to 2,300 undergraduate students from all 50 states and 75 countries.
###