Five Wellesley College Juniors Win Mellon Mays Undergraduate Fellowships
June 30, 2010


WELLESLEY, Mass.— A lifelong competitive swimmer, Wellesley College junior Whitney Smith was participating in the Michigan Mile open water race in the Detroit River when she became inspired to learn more about the water quality of freshwater sources.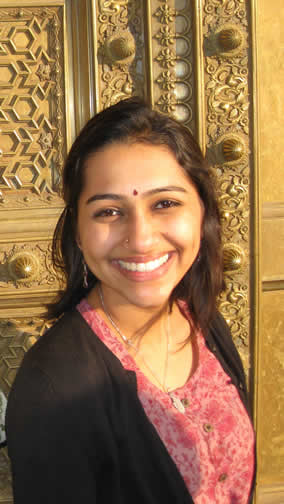 Wellesley College student Gauri Subrmani in Jaipur, the capital city of the Indian state of Rajasthan. This summer, Subramani will study novels written in India in the 19th century with funding from a Mellon Mays Fellowship.
"After exploring water quality in my area I became interested in other environmental issues that not only affect my local community but communities around the world as well," she said.
Smith, who is from Detroit, Mich., will now be aided in her pursuit of environmental justice, as she has recently been named a Mellon-Mays Undergraduate Fellow (MMUF). Wellesley College students Michelle Corkrum, of Blaine, Minn.; Cassandra Eddington, of San Antonio, Texas; Celida Ramirez, of Lynwood, Calif.; and Gauri Subramani, of Minnetonka, Minn., have also received the honor.
Mellon-Mays fellowships aim to remedy the shortage of faculty of color in higher education by identifying and supporting students of great promise and helping them to become scholars of the highest distinction.
"The Mellon offers a plethora of resources including funding for research, a network of Mellon Mays Fellows and the guidance of the Mellon advisors," said Ramirez, who will research Spanish literature from the Middle Ages this summer with funding from the fellowship.
The students will continue to pursue Mellon-funded research projects that range from the study of novels written in India in the 19th century, to the neurological basis of race perception, to the cultural production of drugs in Colombia and Mexico.
"Being named a Mellon Fellow has really helped me think about what being an academic involves and what I can do achieve my goals," said Subramani, who plans to attend graduate school to study South Asian literature.
Corkrum said she enjoys talking with other Mellon fellows at Wellesley, learning about the wide variety of topics they are studying. They meet weekly during the academic year to discuss progress on research projects and other interests.
"As a neuroscience major, it was nice to learn how to present my findings to individuals that were not completely familiar with my field," she said.
Since 1875, Wellesley College has been a leader in providing an excellent liberal arts education for women who will make a difference in the world. Its 500-acre campus near Boston is home to 2,300 undergraduate students from all 50 states and 75 countries.
###