Wellesley's Elizabeth O'Connell Elected President
of the Northeast Association of Pre-Law Advisors
July 1, 2010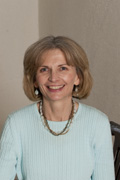 WELLESLEY, Mass.— Elizabeth O'Connell, director of not-for-profit and public service programs and prelaw advisor at Wellesley College, has been elected president of The Northeast Association of Pre-Law Advisors (NAPLA).
NAPLA, the oldest and largest of the six regional pre-law advising associations, works to improve the skills of pre-law advisors and advocates the interest of undergraduate students and institutions in the counseling and admissions process leading to law-related careers. O'Connell, a resident of Upper Newton Falls, Mass., will serve as president of the organization from Sept. 1, 2010 through Aug. 31, 2011.
"I have enjoyed NAPLA, both benefiting from and contributing to the learning that occurs through established professional organizations," she said. "I look forward to the honor of leading NAPLA in the year ahead."
In 2003, O'Connell became the prelaw advisor at Wellesley College, guiding students and alumnae applying to law school. Under her direction, faculty-staff collaboration in prelaw advising has been strengthened, and new programs, including a conference for prelaw students, have been created. She has served on NAPLA's conference committee for five years and on the board of directors since 2006. In June 2009, she was elected as NAPLA's president-elect; in this capacity she co-chaired a joint conference with the Southern Association of Pre-Law Advisers at the Duke University School of Law held in June.
O'Connell graduated summa cum laude from Southern Connecticut State University with a B.S. in health education and completed courses toward an M.B.A. at Boston University.
Since 1875, Wellesley College has been a leader in providing an excellent liberal arts education for women who will make a difference in the world. Its 500-acre campus near Boston is home to 2,300 undergraduate students from all 50 states and 75 countries.
###