Wellesley College Students Win U.S. Department of State
Critical Language Scholarships
July 12, 2010



WELLESLEY, Mass.— While at Wellesley College, 2010 graduate Julia Chrusciel, at right, would often overhear her Turkish roommate speaking to family and friends in her native language. Intrigued, Chrusciel began to teach herself the language from a book.
Chrusciel, the daughter of James and Marguerite Chrusciel of Western Springs, Ill., has been aided in her pursuit of her language study with a U.S. Department of State Critical Language Scholarship (CLS) to study Turkish in Istanbul, Turkey, this summer.
"I am incredibly excited to be living in Turkey and experiencing the culture firsthand," she said. "I think it is difficult to say to what I am most looking forward to, since I find that the things you love most about a place are usually things you never knew of — or could never have imagined — before you went there."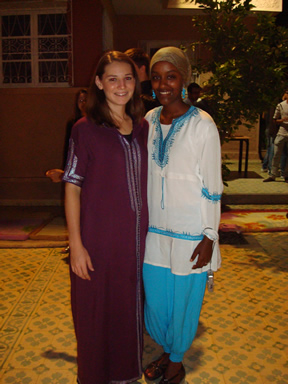 Wellesley first-year student Emma Smith (at left) is studying Arabic in Morocco this summer with support from the U.S. Department of State.
Wellesley College first-year student Emma Smith, the daughter of Dylan and Julia Smith of St. Croix, U.S. Virgin Islands, has also won the scholarship to study Arabic in Morocco this summer.
Smith's interest in Islamic culture and Middle Eastern affairs led her to the study of Arabic. She now hopes to use her knowledge of the language in a career in international affairs in the region.
"In studying in Morocco this summer, I look forward to making demonstrable progress in my Arabic skills but also to immersing myself in an Arabic-speaking Islamic culture," she said. "So far, my favorite aspect of the trip has easily been the opportunities I have had to spend time with Moroccan students. I have enjoyed hiking and sightseeing as well as discussing social and political issues with the students that I have met."
The CLS Program is part of a U.S. government effort to expand dramatically the number of Americans studying and mastering critical-need foreign languages. Chrusciel and Smith will attend a fully funded intensive language institute and partake in cultural enrichment experiences for the summer.
Since 1875, Wellesley College has been a leader in providing an excellent liberal arts education for women who will make a difference in the world. Its 500-acre campus near Boston is home to 2,300 undergraduate students from all 50 states and 75 countries.
###