Wellesley College Students Revolutionize Museum Experience with iPhone App
Nine More to Join Davis Museum Staff This Summer to Ponder the Future
July 12, 2010


WELLESLEY, Mass.— Art is meant to communicate thoughts and emotions to viewers. Now, thanks to Wellesley College students, viewers are encouraged to respond.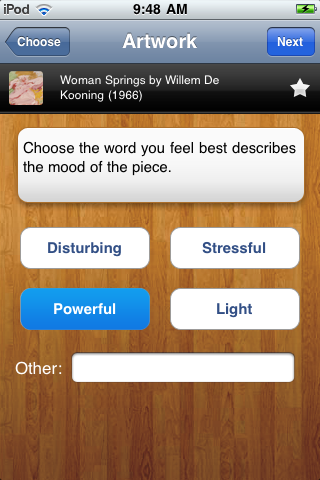 "The application has the potential to increase personal and social engagement within the museum, while teaching those who are unfamiliar a little more about its amazing collection," said application developer MaCherie Edwards.

As a member of Wellesley's Human Computer Interaction Lab (HCIL), senior MaCherie Edwards is collaborating with fellow senior Consuelo Valdes of Miami, Fla., and recent graduate Lia Napolitano of Bloomingburg, N.Y., to create a new iPhone application that allows Davis Museum visitors to share ideas and feelings inspired by art.

Edwards applied for an internship at Wellesley's Davis Museum and Cultural Center after spending the past year developing an iPhone application specifically for the museum's galleries. By typing in a number, visitors with an iPhone or iPod can select their emotional or intellectual response to that object.
For example, while viewing de Kooning's Woman Springs, visitors can pick among "disturbing," "stressful," "powerful" or "light" — choosing the word they feel best describes the mood of the piece. Visitors can also add words to the database for future art lovers to pick from.
"The application has the potential to increase personal and social engagement within the museum, while teaching those who are unfamiliar a little more about its amazing collection," said Edwards, a native of Oklahoma City.

According to her projections, the application will become available to museum-goers this fall.
The idea stemmed from the HCIL, where Edwards launched the project with fellow senior Helen Wu of Montebello, Calif., and Napolitano. She also completed an independent study with Napolitano, during which they laid the foundations of the new iPhone application. Edwards and Napolitano presented their work at Wellesley's 2010 Ruhlman Conference, a forum for students to present their research to peers, faculty, staff and alumnae.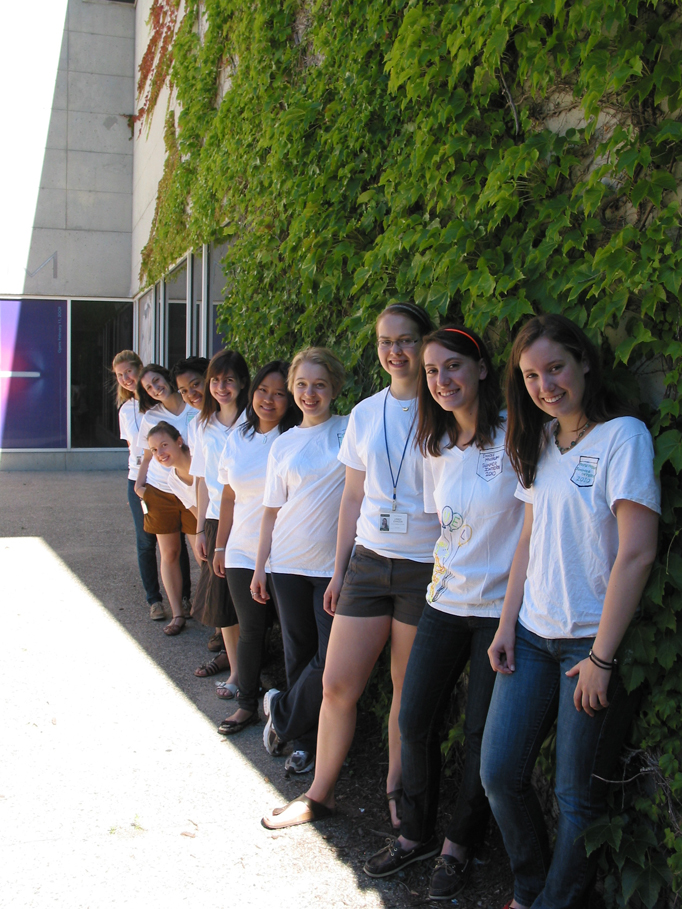 From left to right: Molly Eckel, Jenny Harris, Wendy Dickieson, MaCherie Edwards, Lia Dawley, Wendy Xu, Lena Mironciuc, Linnea Johnson, Miquel Geller and Eleri Roberts

Click on image for high resolution file.
Nine more students join her in this year's summer internship program at the Davis Museum. One of the oldest and most acclaimed academic fine arts museums in the United States, the Davis Museum and Cultural Center is a vital force in the intellectual, academic and social life of Wellesley College. The museum helps to cultivate critical thinking, inspire ideas and foster involvement with the arts both within the college and the larger community.
The internship program provides an opportunity for students to learn marketable skills, gain a broad exposure to museum operations and acquire an overview of museum practices and policies. But student interns also lend their skills to the museum in an effort to promote interactivity between art and visitors.
Former intern and 2010 Wellesley graduate Miquel Geller, of Fox Chapel, Pa., heads the program this year, organizing trips to museums, galleries and private collections; book readings; and museum-related activities for the group.

"The museum staff and interns are all reading a book this summer, Noah Charney's The Art Thief. It will be a whirlwind summer filled with art and discussions," Geller said.
Like Geller, several interns — including juniors Lia Dawley of Portland, Ore., Wendy Dickieson Bethesda, Md., Molly Eckel of Bedford, N.H., and Jenny Harris of Chicago, Ill., have been involved with the Davis Museum Student Advisory Committee during their time at Wellesley.

"My interest in these internships was sparked by the positive, enthusiastic experiences and feedback from members of DMSAC who had previously participated in this program," Dawley said.
Other interns have worked at the Davis in a variety of capacities. After working in the director's office for the past year, sophomore and Clifton Park, N.Y., native Wendy Xu became intrigued by the museum's inner workings and wanted to gain experience on the curatorial level.
Lena Mironciuc of Greensboro, N.C., became acquainted with the Davis during Poetry Night, where she read some of her own poems. Her creativity finds expression through both the visual and literary arts, and she considers her exposure to rare works on paper at the Davis "simply mind-blowing."
Junior Linnea Johnson Kansas City, Mo., was extremely glad to land this internship, in what was to date the most competitive round of applications by far.
"I actually read about the program on the Davis Museum's website when I was a prospective student, and it definitely stayed with me," Johnson said.

Junior Jenny Harris works closely with the museum's new director, Lisa Fischman.
"Some days I see myself teaching art history in a setting like Wellesley more than I do working at a museum, but ideally, I might find a way to combine those two paths," she said.
Regardless of the careers paths the interns follow, one thing is certain: their love of art will remain an integral part of their lives.

Since 1875, Wellesley College has been a leader in providing an excellent liberal arts education for women who will make a difference in the world. Its 500-acre campus near Boston is home to 2,300 undergraduate students from all 50 states and 75 countries.
###