Wellesley College's Ellen Willis-Norton Will Work to Save Seacoasts
Thanks to National Scholarship
July 21, 2010


WELLESLEY, Mass.— Wellesley College junior Ellen Willis-Norton has received the National Oceanic and Atmospheric Administration (NOAA) Ernest F. Hollings Scholarship, which aims to increase undergraduate training and prepare students for careers in oceanic and atmospheric science.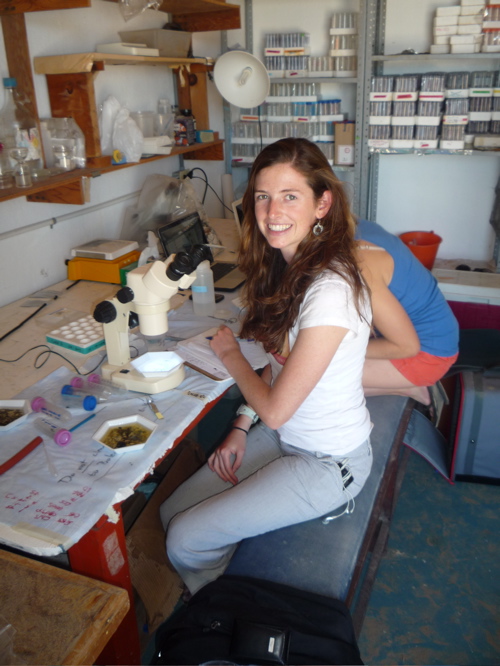 Wellesley College junior Ellen Willis-Norton conducts research in Baja, Mexico. She has won funding from the National Oceanic and Atmospheric Administration to continue her study
of conservation biology.
The daughter of Noelle Norton and Erwin Willis of Solana Beach, Calif., she will use the scholarship to study the preservation of the Pacific Coast and California coastal ecosystems.
"I am interested in conservation biology, specifically the protection and management of vulnerable freshwater and ocean ecosystems," she said. "I am fascinated by the relationship between ocean and freshwater systems and want to ensure their sustainability."
As part of the award, she will receive up to $16,000 and participate in a paid 10-week internship in the summer of 2011, where she will work with a NOAA mentor. She is most interested in working with the National Marine Fisheries Services or the National Ocean Service, where she would join a team of NOAA scientists researching the long-term effects of the Gulf oil spill.
"I am excited that I will have the opportunity to work alongside scientists who conduct research that has the possibility of directly affecting federal policy," she said.
An environmental studies and biology major, this summer Willis-Norton is studying the effects of a tuna and sardine cannery on the water quality and marine ecology of Magdalena Bay, Mexico, with support from a Wellesley College Center for Work and Service summer stipend. She is currently in Mexico collecting sediment cores from around the bay and will analyze the samples to study the effect of pollution from the cannery on the bay through the University of San Diego, where she is working with two professors. Last summer, she interned for the San Diego branch of the Surfrider Foundation, where she analyzed data on trash collected at beaches in San Diego County to help argue for environmental legislation.
At Wellesley, Willis-Norton serves as the publicity chair for Wellesley Energy and Environmental Defense and the student program assistant for the environmental studies department. She is also on the equestrian team and a member of Wellesley's Unitarian Universalist community.
Following graduation, she plans to backpack through the Andes and become a NOAA observer on a fishing vessel before pursuing a Ph.D. in environmental science and management with a focus on coastal ecosystem preservation. She plans to be a coastal ecosystems biologist and work in the policy arena to encourage environmental sustainability on coastlines.
Since 1875, Wellesley College has been a leader in providing an excellent liberal arts education for women who will make a difference in the world. Its 500-acre campus near Boston is home to 2,300 undergraduate students from all 50 states and 75 countries.
###