Total Eclipse of the Heart: Wellesley Professor Chases Magical Moment
August 4, 2010


WELLESLEY, Mass.— Along with her husband Dan Seeley, Wellesley professor Adele Wolfson chases total solar eclipses around the globe. In destinations such as Aruba, France, Zambia, Egypt, China and the South Pacific, they have caught that moment when the moon's shadow completely covers the sun.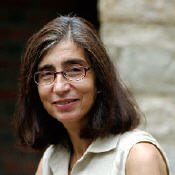 In July, a total eclipse made no landfall except for tiny Mangaia in the Cook Islands and Easter Island. In Mangaia (pop. 600, about halfway between Australia and South America), clouds dimmed the full power of the eclipse. It remains an experience to remember, just the same, for these thrill seekers.

"We slept in a school because there are no hotels there," said Wolfson, the Nan Walsh Schow '54 and Howard B. Schow professor in the physical and natural sciences and director of the Three-College Collaboration.

Among the few tourists the island ever sees, they received VIP treatment. "The school kids put on a show, and the people even installed hot water showers for us."

Eclipses have captured Adele's heart since her first in Aruba in 1998.

"It is so beautiful," she said. "Pictures cannot capture the drama of stars coming out, birds stopping singing. It's as if there is a sunset all around the horizon."

This mystical quality, a sense of connection to ancient, timeless wonders, packs an emotional wallop. "As Annie Dillard said, the difference between a partial and a total eclipse is the difference between riding in an airplane and falling out of an airplane," Wolfson noted. "One experience in no way prepares you for the other."

For videos of the eclipses, click here.

###