Keohane Sports Center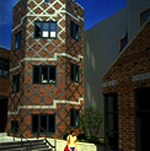 The Nannerl O. Keohane Sports Center, named after Wellesley's former president, makes it possible for the entire college community to engage in physical activity year round. In addition, the PERA department provides physical education classes and many hours of recreation time for Wellesley students and employees. The Sports Center is the focal point for activity and wellness for the college community. It is the site for Wellesley's varsity team practices and competition. For additional pictures of the Keohane Sports Center click here.
top
Dorothy Towne Fieldhouse


The centerpiece of the Keohane Sports Center is the Dorothy Towne Fieldhouse, featuring a main varsity basketball court with a hardwood floor. A four-lane 200-meter track surrounds the perimeter of the fieldhouse. For additional pictures of the Dorothy Towne Fieldhouse click here.
top
Chandler Pool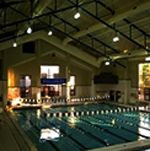 Chandler Pool is one of the finest swimming and diving facilities in the New England region. It is the competition site for the Wellesley swimming and diving team and the host site for numerous championships. more
top
Activity Areas

Located within the Keohane Sports Center are two dance/yoga studies and a multi-purpose gymnasium. These three sites are used by the college community for PE and recreation activities such as dance, yoga, fencing, badminton, aerobics, and self-defense. For additional pictures of the Activity Areas click here.
top
Weight Training and Conditioning Rooms

The Wellesley College Weight Training Room is equipped with a complete state-of-the-art Cybex circuit, free weights and a Gravitron Machine. An additional free weight room is located adjacent to the Weight Training Room located on the lower level of the Keohane Sports Center. Cardiovascular equipment, including stairmasters, stationary bikes, treadmills and rowing machines are located inside the Dorothy Towne Field House. more
top
Athletic Training/Sports Medicine Room
Also located within the Keohane Sports Center is the Wellesley College Athletic Training Room accesible for all Wellesley varsity student-athletes. Extensive preventative injury and rehabilitive equipment is located in the lowerlevel of the Keohane Sports Center. more
top