INAUGURATION Greeting from Union Staff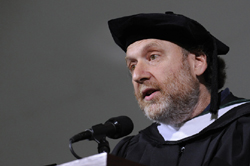 Murray Wolf, Head of Shop, Maintenance Services
May 9, 2008
It's my privilege to offer words of greeting to all of you, and to our president, Kim Bottomly, on behalf of Wellesley College's 2 unions; the Campus Police Union and the Maintenance and Service Employees Union. The people I represent, keep our campus safe, clean, beautiful and running smoothly. We are police officers, landscapers, electricians, custodians, plumbers and food service workers. We are carpenters, metal mechanics and painters.
We are arborists, horticulturists and locksmiths. We work in athletic facilities. We repair boats and sporting equipment. We are automobile and small engine mechanics. We are animal care technicians. We transport people and objects. We maintain phone systems and data networks. We generate electricity and we heat and cool our buildings.
Yes, our jobs are diverse. But what we have in common, is the great satisfaction we find in our work, our dedication to Wellesley College, and the pride we feel, to be part of this wonderful community.
In Kim Bottomly, Wellesley College has a president who is warm, engaging, and accomplished. Her life story is that of a person who began with natural gifts, and who studied hard and worked hard. It's the story of a person who consistently found ways to use her gifts for the betterment of science, society and those people fortunate enough to be around her. Kim is a superb role model and leader.
As a young girl, in the rural outskirts of Helena, Montana, Kim performed science experiments in the basement of her home. As the years passed by, she continued conducting experiments, albeit more formally, and usually in a laboratory setting..... but not always. In an article that appeared in the University of Washington Alumnae Magazine, Kim said,

"My independent project investigated how crabs find food," "Many of my experimental crabs had to live in the sink of my bathroom in the dormitory, a bathroom I shared with an aspiring lawyer. She probably wasn't as excited about the results as I was."
Speaking on behalf of my colleagues in the custodial and plumbing departments, I urge the Wellesley College students here today NOT to emulate the crabs in the bathroom sink episode of Kim's *otherwise* exemplary life.
Through her words and actions, Kim has demonstrated her understanding of the complexity of keeping Wellesley College operating smoothly, and she has explicitly expressed her appreciation of the people, whose dedication and efforts, make all of this possible.
On behalf of my coworkers, I offer our hearty congratulations to you, Kim, and I extend to you our commitment to work with you, as together, we take on the challenges of the years ahead at Wellesley College.
I'll close by reading An Ode to President Kim Bottomly, which touches on selected aspects of Kim's life story, and her path to becoming the 13th president of Wellesley College.
An Ode to President Kim Bottomly
We're gathered here from far and wide,
with words of salutation,
for President Kim Bottomly
upon her inauguration.
A native of the Big Sky State,
Land of Treasure (and self reliance),
Kim, at a tender, early age
succumbed to the lure of science.
In the basement of her rural home
young Kim first took a stab
at carrying out experiments,
in a spartan, makeshift lab.
This youthful, budding scientist,
curious, and sharp as a knife,
embarked on a trail of discovery,
that would define her professional life.
At the University of Washington,
Kim found her niche in biology,
studying animals, then bio structure,
which led her to immunology...
...then post doc work at the NIH,
and the Fox Chase Cancer Center,
then to Yale, as a professor, researcher
administrator and mentor.
They say Kim's a virtuoso
with an expertise that ranges,
from allergic and asthmatic responses
to their associated cellular changes.
This prolific and thoughtful writer,
whom acclaim did not elude,
penned some 160 articles...
scholarly, and peer reviewed.
Then a bolt from the Blue, as in Wellesley,
sparked Kim's imagination.
She couldn't pass up the seat at the helm
of the crown jewel of women's education.
Did our beautiful campus seal this deal,
and snare this immunology maven?
Wellesley's gorgeous, as we all can see,
and Yale....well, it's in New Haven.
Bucolic Wellesley has meadows and a lake.
Red tail hawks sit upon their perches
amid stands of mighty grandfather oaks,
and little sons of birches.
To close, we're glad you chose Wellesley, Kim.
You're clearly up to the task.
You bring vision, wisdom and leadership.
And what more could we ask?